Music without words, words without music, and combinations therein. The freeform soundtrack for working, shirking, or twerking.

If you would like to receive an email with the schedule of what's playing on the Give The Drummer Radio webstream each day, subscribe here. It's only one email per day; you can check out previous emails by clicking on "View Letter Archive" at that link before subscribing if you wish. Never miss a Drummer show (especially mine!) again!

November 29, 2015: Live music from WUME!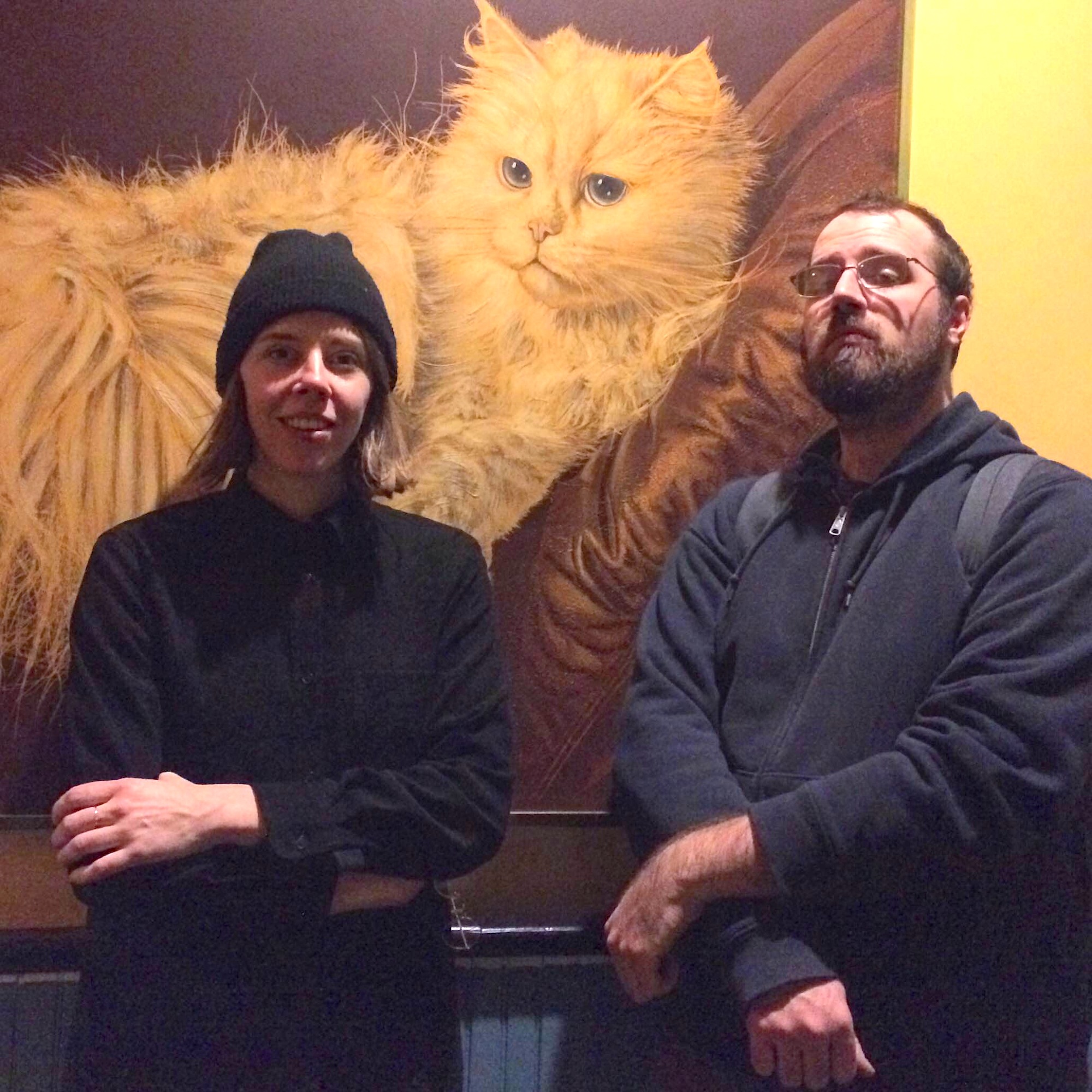 April and Al

Baltimore duo
Wume
explores polyrhythmic structures through the lens of kosmische; they call it "mutant new age music." Their new album,
"Maintain,"
was released in May on Ehse Records, and the six tracks are each a sparkling aural future city; the hypnotic synths and precise drumming create episodes of icy minimalism, sweeping grandeur, and freaky psychedelia. Prepare to be sonically transported when they play live on my show, beginning at 1 am!
Listen to this show:
Artist
Track
Album
Label
Year
Format
Comments
New / Special
Approx. start time
Le Flange Du Mal
Threnody For S.A.
Carrion, My Wayward Son...
Resipiscent
2015
LP
*
0:00:00 ()
Spoon
Tweakers
Got Nuffin
Merge
2009
CD
0:04:36 ()
Silk Flowers
Frozen Moments
Ltd. Form
PPM
2011
CD
0:08:16 ()
Island Boy
Too Straight
Basic Instincts
Rita Records
2014
CD
0:12:25 ()
The Future
Pulse Lovers
The Golden Hour Of The Future: Recordings By The Future And The Human League
Black Melody
CD
Originally released in 1977.
0:16:15 ()
Grimes
REALiti (Demo)
Art Angels
4ad
2015
CD
*
0:20:14 ()
Magas
Heads Plus
Heads Plus
Midwich
2015
12"
0:24:34 ()
Sons & Daughters
Don't Look Now
Mirror Mirror
Domino
2011
CD
0:28:34 ()
Siouxsie & The Banshees
Head Cut
Juju
Polydor / Geffen
1991
CD
Originally released in 1981.
0:32:38 ()
Go Home Productions
Temptation Of The Police
Berlin EP
Go Home Productions
2010
MP3
A mash-up of The Temptations' "Get Ready" and The Police's "Can't Stand Losing You."
0:37:02 ()
Chris Knox
Flaky Pastry
Yes!!
Flying Nun
1997
CD
0:39:26 ()
Le Singe Blanc
Cüghart
self-titled
La Face Cachee
CD
*
0:45:22 ()
Cirith Ungol
Frost And Fire
Frost And Fire
Metal Blade
1991
CD
Originally released in 1981.
0:52:23 ()
Torche
Hideaway
Songs For Singles
Hydra Head
2010
CD
0:55:59 ()
Barbara Morgenstern
Eine Verabredung
Fan No. 2
Monika
2010
MP3
This song originally released in 2000.
0:58:04 ()
Music behind DJ:
Barbara Morgenstern
Eine Verabredung
1:02:02 ()

WUME live on WFMU
Recorded November 23, 2015, engineered by Mario Santana

April Camlin: drums & vocals
Albert Schatz: synthesizers & vocals

You can download this live session at the Free Music Archive!


Wume
Intro
(Live on WFMU)
2015
WAV
1:09:34 ()
Wume
Ravel
(Live on WFMU)
2015
WAV
1:13:09 ()
Wume
Gold Leaf
(Live on WFMU)
2015
WAV
1:17:50 ()
Wume
We Go Further
(Live on WFMU)
2015
WAV
1:23:59 ()
Wume
Shadow
(Live on WFMU)
2015
WAV
1:31:01 ()
Wume
Ostinaut
(Live on WFMU)
2015
WAV
1:37:29 ()
Kosmischer Läufer
Siegerehrung / Abschied Von Der Zukunft
The Secret Cosmic Music Of The East German Olympic Program 1972-83, Vol. 3
Unknown Capability Records
2015
CD
*
1:45:31 ()
Vivien Goldman
Private Armies Dub
Sherwood At The Controls Volume 1: 1979-1984
On-U Sound
2015
CD
Various artists; this song originally released in 1981.
1:51:09 ()
Hi Fiction Science
Kosmonaut
self-titled
Negative Drive
2011
CD
1:55:51 ()
Music behind DJ:
Barbara Morgenstern
Eine Verabredung
1:59:14 ()
Serge Gainsbourg and Brigitte Bardot
Bonnie And Clyde
Initials B.B.
Mercury
2001
MP3
Originally released in 1968.
***
2:11:07 ()
James Iha & Kazu Makino
The Ballad Of Bonnie & Clyde
Monsieur Gainsbourg: Revisited
Barclay / Verve Forecast
2006
MP3
Various artists; a Serge Gainsbourg cover.
***
2:15:20 ()
Madison
Bonnie And Clyde
Bonnie And Clyde single
G-Records
2013
MP3
A Serge Gainsbourg cover; additional vocals by Jordan Galland.
***
2:19:43 ()
Mick Harvey
Bonnie And Clyde
Intoxicated Man
Mute
1995
MP3
A Serge Gainsbourg cover; additional vocals by Anita Lane.
***
2:23:44 ()
Freedom Fry
Bonnie & Clyde
Outlaws EP
Caveman Arts Society
2012
MP3
A Serge Gainsbourg cover.
***
2:27:40 ()
Luna
Bonnie And Clyde
Penthouse
Elektra
1995
MP3
A Serge Gainsbourg cover; additional vocals by Laetitia Sadier.
***
2:31:05 ()
Scarlett Johansson & Lulu Gainsbourg
Bonnie & Clyde
Bonnie & Clyde single
MBM
2012
MP3
A Serge Gainsbourg cover; Lulu is Serge's son.
***
2:36:34 ()
The Stargazer Lilies
Bonnie And Clyde
Bonnie And Clyde single
self-released
2015
MP3
A Serge Gainsbourg cover.
***
2:41:01 ()
Shana Falana
Go
Set Your Lightning Fire Free
Team Love
2014
LP
*
2:45:51 ()
Televise
Life On Mars
Songs To Sing In A & E
Club AC30
2006
MP3
2:49:06 ()
Psychedelic Furs
So Run Down
Talk Talk Talk
Columbia
1981
MP3
2:54:02 ()
Music behind DJ:
Barbara Morgenstern
Eine Verabredung
Fan No. 2
Monika
2010
MP3
2:56:56 ()