Music without words, words without music, and combinations therein. The freeform soundtrack for working, shirking, or twerking.

If you would like to receive an email with the schedule of what's playing on the Give The Drummer Radio webstream each day, subscribe here. It's only one email per day; you can check out previous emails by clicking on "View Letter Archive" at that link before subscribing if you wish. Never miss a Drummer show (especially mine!) again!

April 6, 2014: Live music from CARSICK CARS!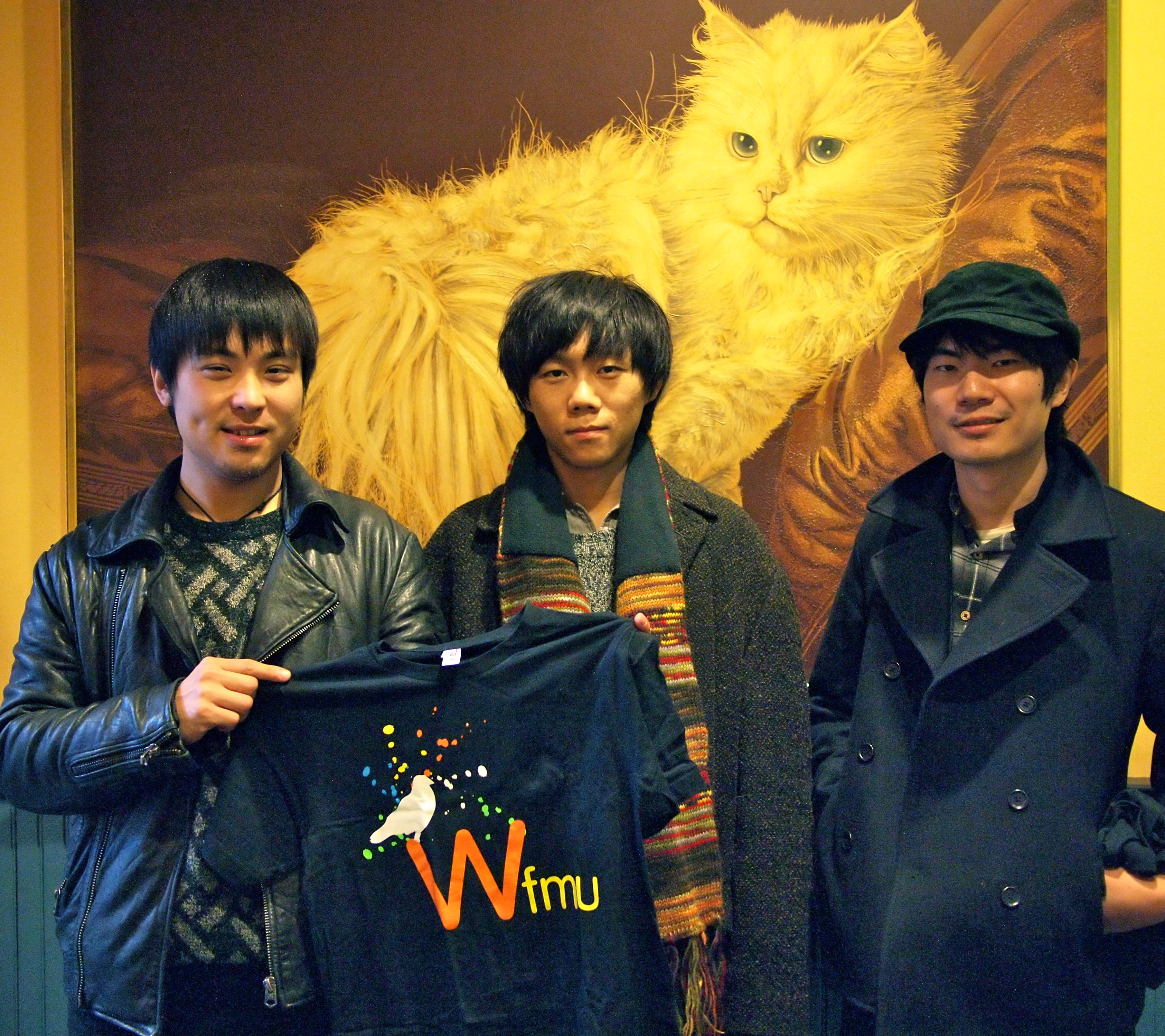 He Fan, Monkey, and Shouwang

Calling themselves China's most influential underground band,
Carsick Cars
released their third album, "3" on the Beijing label Maybe Mars in February. For the new album, songwriter Shouwang has jettisoned the hard riffs of his earlier style to create sophisticated, shimmering songs, still based on his trademark drones and deceptive rhythms; and showcasing the extraordinary guitar playing that has characterized all his music. Like both of the band's previous albums, the music rests on Shouwang's intense, pop-inflected song melodies, which he and bassist He Fan and drummer Monkey, both of whom joined the band in 2011, tear apart in music that veers from repetitive, intricate drones to complex mood shifts. Hear them recorded live tonight at 1 am, and buy their new album
here
!
Listen to this show:
Artist
Track
Album
Label
Year
Format
Comments
New / Special
Approx. start time
LCD Soundsystem
Dance Yrself Clean
This Is Happening
DFA
2010
CD
0:00:00 ()
Tones On Tail
Twist
Everything!
Beggars Banquet
1998
MP3
This song originally released in 1984.
0:08:57 ()
Human League
Reflections
Secrets
Ark 21
2001
CD
0:14:01 ()
Rhythm King and Her Friends
Shock
Marke B03: Berlin Labels
The Wire
2003
CD
Various artists.
0:20:35 ()
Das Bierbeben
Taub (Deaf)
No Future No Past
Shitkatapult
2004
CD
0:23:25 ()
Laid Back
White Horse
Sexy Grooves
12"
This song originally released in 1983.
0:28:44 ()
Utah Saints
Something Good
self-titled
London / PolyGram
1992
CD
0:34:31 ()
The Juan MacLean
AD 2003
Less Than Human
Astralwerks / DFA
2005
CD
0:40:30 ()
Sabina
Toujours
Toujours
Bar None
2014
CD
*
0:42:31 ()
Family Fodder
Dinosaur Sex
Monkey Banana Kitchen
Staubgold
2014
CD
This song originally released in 1981.
*
0:45:57 ()
Hongthong Dao Udon
Mai Keay Ruk (Never Loved)
Thai Funk ZudRangMa, Vol. 2
ZudRangMa
2009
CD
Various artists.
0:54:54 ()
Gigawipf
Tainted Love
Floppy Music
self-released
2012
MP3
A Soft Cell cover. From YouTube.
0:57:29 ()
Music behind DJ:
Gigawipf
Tainted Love
self-released
2012
MP3
1:00:28 ()

Carsick Cars live on WFMU
Recorded April 4, 2014, engineered by Glenn Luttman

Shouwang: vocals, guitar
He Fan: bass, backing vocals
Monkey: drums

Check out some great photos of the session here, taken by Jeff Moore!

You can download this live session at the Free Music Archive!


Carsick Cars
15 Minutes Older
(Live on WFMU)
2014
WAV
1:09:42 ()
Carsick Cars
The Best VPN So Far
(Live on WFMU)
2014
WAV
1:14:06 ()
Carsick Cars
She Will Wait
(Live on WFMU)
2014
WAV
1:19:18 ()
Carsick Cars
Zhong Nan Hai
(Live on WFMU)
2014
WAV
1:25:52 ()
Carsick Cars
Reaching The Light
(Live on WFMU)
2014
WAV
1:31:19 ()
Carsick Cars
Everybody Comes To The City Now, Everybody Wants To Be Free But Don't Know How (Wei Cheng)
(Live on WFMU)
2014
WAV
1:35:43 ()
Carsick Cars
Sunday Morning
(Live on WFMU)
2014
WAV
A Velvet Underground cover.
1:40:52 ()
Lou Reed
Romeo Had Juliette
New York
Sire
1989
CD
1:45:51 ()
Vic Goddard & The Subway Sect
Take Over
We Come As Aliens
Overground
2010
CD
1:49:01 ()
The Reactionaries
The Big Lie
1979
Water Under The Bridge
2010
CD
1:51:59 ()
The Static Tics
Cheap Nerves (Nr. 9)
My Favorite Tics
Z6
2010
CD
1:54:13 ()
Margaret Murray
The Campbells Are Coming
Music For Children (Schulwerk)
Trunk
2013
CD
This song originally recorded in 1957.
1:57:29 ()
Music behind DJ:
Gigawipf
Tainted Love
self-released
2012
MP3
1:58:53 ()
Johnny Cash
Ring Of Fire
Ring Of Fire
Red Cab
2011
MP3
A live version from the 70s; not the original.
***
2:10:45 ()
June Carter Cash
Ring Of Fire
Ring Of Fire: The Best Of June Carter Cash
Dualtone
2005
MP3
A Johnny Cash cover; this version originally released in 1999.
***
2:13:36 ()
Wall Of Voodoo
Ring Of Fire
The Index Masters
Restless
1991
MP3
A Johnny Cash cover; this version originally released in 1980.
***
2:16:26 ()
Grace Jones
Nightclubbing
Nightclubbing
Island
1990
CD
An Iggy Pop cover; originally released in 1981.
2:21:31 ()
John Lurie National Orchestra
Men With Sticks (Noble Version)
The Invention Of Animals
Amulet
2013
LP
This song originally released in 1992; hear John Lurie on Trouble's show on Tuesday morning!
*
2:26:34 ()
Shu-De
Tyva Uruankhai
Voices From The Distant Steppe
Caroline
1994
CD
2:31:17 ()
Bradford Reed
Motivational Music For Pedestrians
Orbitones, Spoon Harps & Bellowphones
Ellipsis Arts
1998
MP3
Various artists.
2:37:06 ()
Floyd Cramer
The Gospel Theme
Floyd Cramer Gets Organ-ized
RCA Victor
1962
LP
2:41:28 ()
Woods
Out Of The Eye
Sun And Shade
Woodsist
2011
CD
2:43:29 ()
Beck
Waking Light
Morning Phase
Fonograf / Capitol
2014
CD
*
2:50:40 ()
Music behind DJ:
Gigawipf
Tainted Love
self-released
2012
MP3
2:55:42 ()