The Evan "Funk" Davies Show: Playlist from March 13, 2013
Every show starts with a cut from the '70s: Rediscovering the forgotten rockers, revisiting the once-hated disco beats, replaying the power-pop favorites. Next: copious amounts of new releases and occasional live bands. Also: I'm the biggest Nick Gilder fan on WFMU.
<-- Previous playlist | Back to The Evan "Funk" Davies Show playlists | Next playlist -->
---
March 13, 2013: Fundraising Marathon week 2 with co-host BRIAN TURNER!

Listen to this show: | Add or read comments

WFMU Fundraising Marathon Week 2!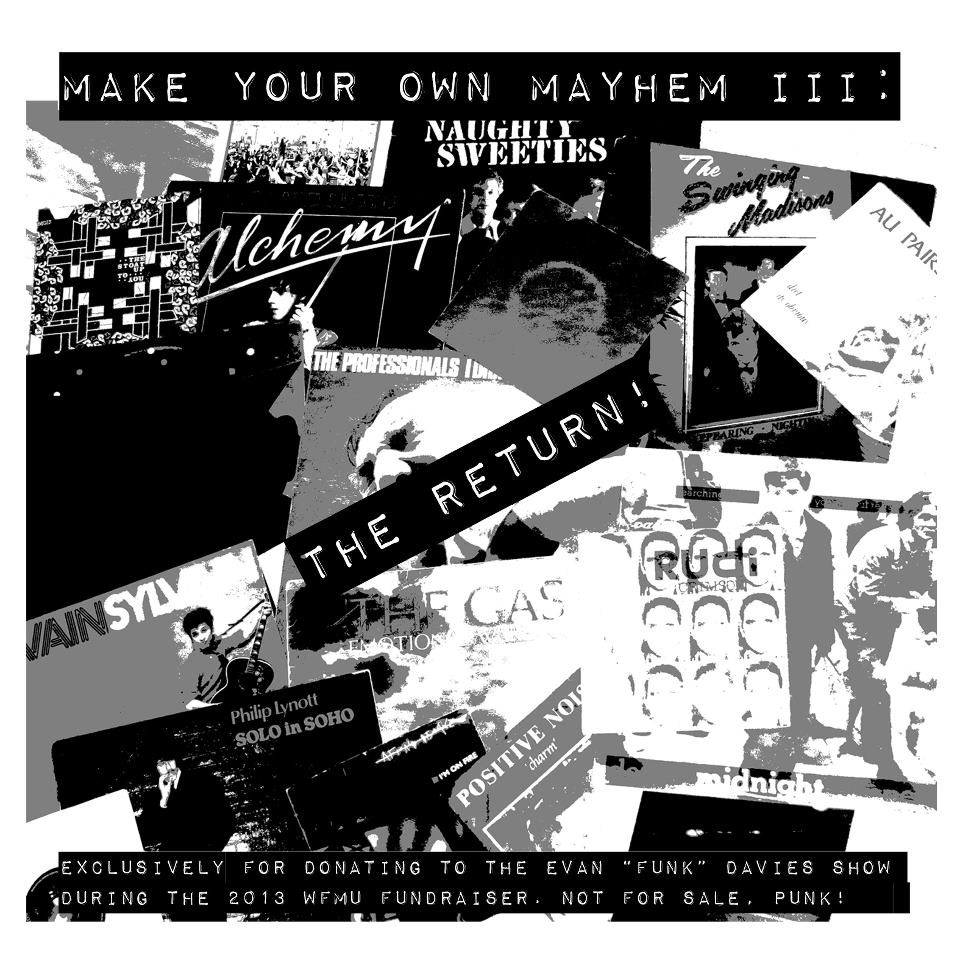 Just
pledge $75
or more to my show and you'll AUTOMATICALLY receive this hand-crafted CD of post-punk/punk/power-pop tunes from the late '70s and early '80s! The Gas, Naughty Sweeties, Manicured Noise, Phil Lynott with Midge Ure (that's right), The Frankies, and more! 20 songs in all!
But wait, there's more!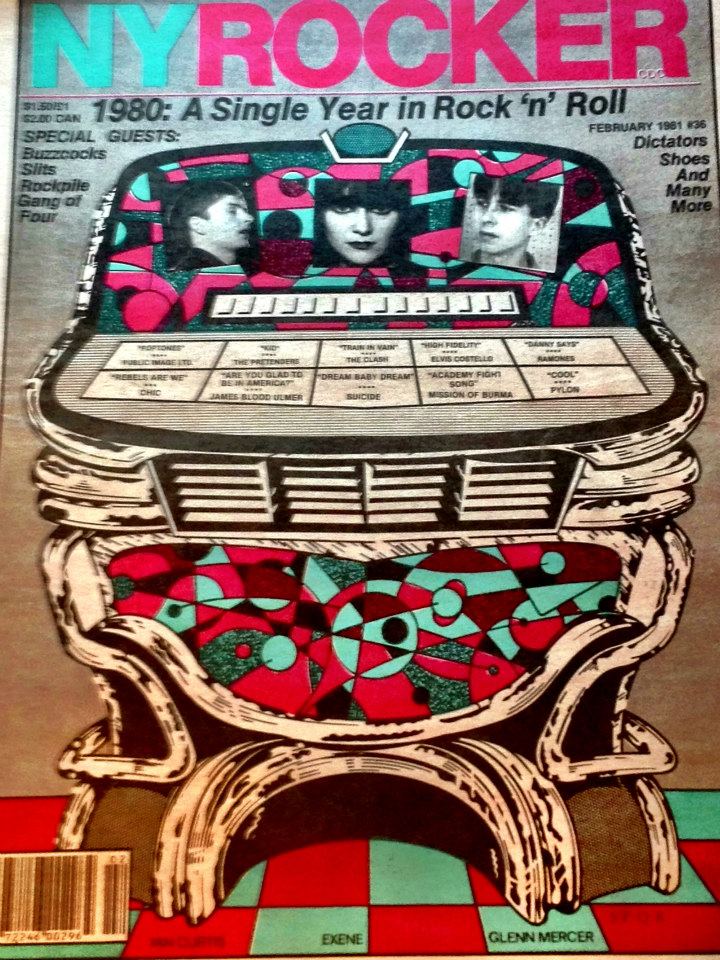 Pledge $120
(or more!) and get in the running to win SEVEN (7!) vintage issues of NEW YORK ROCKER, the bible of the NYC music scene (and beyond) from 1976 through 1982! That's only $10 per month! Issues that will be given away TONIGHT: #7 (May/Jun '77), #14 (Sep '78), #19 (Jun/Jul '79), #30 (Jul/Aug '80), #36 (Feb '81), #47 (Feb '82), and #49 (Apr 1982). DON'T MISS OUT! Make your pledge of $120 OR MORE to be part of the drawing at the end of tonight's show!
Artist
Track
Album
Label
Comments
Approx. start time
hot chocolate
living on a shoestring
0:00:00 ()
bachman-turner overdrive
give me your money please
0:03:49 ()
bob mould
silver age
silver age
merge
0:08:19 ()
the gas
the finger
make your own mayhem iii: the return
my premium mix CD
0:11:51 ()
fat boys
fat boys
pizza box set
tin pan apple
0:25:24 ()
sylvain sylvain
14th street
make your own mayhem iii: the return
my premium mix CD, yours with a pledge of $75 or more!
0:34:27 ()
mount carmel
oh louisa
real women
siltbreeze
0:50:39 ()
swinging madisons
my mediocre dream
make your own mayhem iii: the return
my premium mix CD, yours AUTOMATICALLY with a pledge of $75 or more!
0:56:04 ()
tim maia
bom senso
world psychedelic classics vol 4: nobody can live forever
1:13:50 ()
phil lynott with midge ure
yellow pearl
make your own mayhem iii: the return
my premium mix CD, yours AUTOMATICALLY with a pledge of $75 or more! Call NOW! 800-989-9368 or use the pledge box at the top of this page!
1:18:53 ()
tim maia
nobody lives forever
world psychedelic classics vol 4: nobody can live forever
luaka bop
1:23:19 ()
the moondogs
heads i win
7"
1:39:49 ()
jeff hill band
somethings wrong with my baby
7"
sing sing
1:42:42 ()
london
everyone's a winner
make your own mayhem iii: the return
my premium mix CD, yours AUTOMATICALLY with a pledge of $75 or more! Call NOW! 800-989-9368 or use the pledge box at the top of this page!
1:45:15 ()
the db's
the adventures of albatross and doggerel
falling off the sky
bar/none
2:00:39 ()
richard lloyd
number nine
make your own mayhem iii: the return
my premium mix CD, yours AUTOMATICALLY with a pledge of $75 or more! Call NOW! 800-989-9368 or use the pledge box at the top of this page!
2:05:56 ()
the db's
that time is gone
falling off the sky
bar/none
2:08:50 ()
cleaners from venus
factory boy
vol. 1 (3CD box set)
2:26:31 ()
afraid of mice
i'm on fire
make your own mayhem iii: the return
my premium mix CD, yours AUTOMATICALLY with a pledge of $75 or more! Call NOW! 800-989-9368 or use the pledge box at the top of this page!
2:30:12 ()
gap dream
58th st fingers
Call 800-989-9368 or use the pledge box at the top of the page to get in the running to WIN this CD! My #2 album of 2012!
2:45:17 ()
vermillion sands
20 hours
7"
part of the Trouble In Mind singles 3-pack that we'll be drawing for soon! Call NOW! 800-989-9368 or use the pledge box at the top of this page to be in the running!
2:49:32 ()
<-- Previous playlist
| Back to
The Evan "Funk" Davies Show playlists
|
Next playlist -->
RSS feeds for The Evan "Funk" Davies Show:
Playlists feed |
MP3 archives feed
|
E-mail Evan Davies
|
Other WFMU Playlists
|
All artists played by The Evan "Funk" Davies Show
|
---
Listen on the Internet
|
Contact Us
|
Music & Programs
|
WFMU Home Page
|
Blog
|
Support Us
|
FAQ
Live Audio Streams:
Flash
|
128k MP3
|
32k MP3
|
20k Real
|
20k Windows
---