The Evan "Funk" Davies Show: Playlist from February 8, 2012
Every show starts with the '70s! We'll rediscover forgotten rockers, revisit unfairly maligned disco beats and replay power-pop favorites. Next: plenty of new releases, occasional live bands and more. Don't let the nickname confuse you.
<-- Previous playlist | Back to The Evan "Funk" Davies Show playlists | Next playlist -->
---
Upcoming events:
Wed. Dec 12th, 9pm - Midnight: Savak (More info...)

---
February 8, 2012: Happy 35th birthday, Marquee Moon! Plus: we move to the submarine.

Listen to this show: | Add or read comments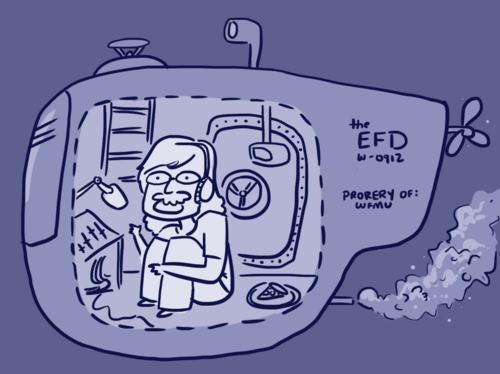 Now broadcasting from Studio B, aka "The Submarine." (Artist's rendering) (artist = Catie).

You are encouraged to Like The Evan "Funk" Davies Show on Facebook, or follow me on Twitter, or both. I suggest both.
(* = new)


Artist
Track
Album
Label
Year
Comments
New
Approx. start time
television
marquee moon
marquee moon
elektra
1977

released 35 years ago today
0:00:00 ()
gap dream
cover it up
s/t
burger
Now available on bandcamp, for those of you who don't have cassette players anymore.
*
0:09:15 ()
jane kennaway
year 2000
7"
deram
1981
0:13:48 ()
dave "baby" cortez
funky robot pt. 1
7"
all platinum
1973
0:17:14 ()
the upper crust
who's who of love
let them eat rock
upstart
1995
0:19:48 ()
the bon
miss october
static electricity
boppa do down
2011
0:23:05 ()
the tee pees
do the smog
7"
bachelor
*
0:40:20 ()
sharp balloons
evening news
7"
goner
*
0:41:52 ()
lures
falling out
7"
salvaged
*
0:44:04 ()
dan melchior
red nylon valance
7"
sdz
*
0:46:24 ()
terry malts
no sir, i'm not a christian
7"
slumberland
*
0:50:33 ()
the well wishers
escape the light
dreaming of the west coast
no label
*
0:58:12 ()
20/20
yellow pills
s/t
portrait
1979
1:01:36 ()
meyerman
immaculate mansions
who do you think you are
pretty decent
produced by Kurt Reil of the Grip Weeds
*
1:05:49 ()
bare wires
make her mine
cheap perfume
southpaw
*
1:09:07 ()
reigning sound
watching my baby
abdication for your love
scion a/v
*
1:11:38 ()
pony time
ex-girlfriend beach
s/t
per se
*
1:22:37 ()
video
images
leather leather
play pinball
*
1:24:58 ()
pharaoh overlord
devastator
out of darkness
ektro
2011
1:27:36 ()
apache dropout
radiation
7"
mexican summer
*
1:37:03 ()
explorers club
run run run
grand hotel
rock ridge music
Jason Brewer from Explorers Club will be on Michael Shelley's show this Saturday, 11am - 1pm! And catch Explorers Club live at Maxwell's this Monday night, Rockwood Music Hall in Manhattan on the 15th, and Spike Hill in Brooklyn on the 16th! More info here!
*
1:49:15 ()
the bats
free all the monsters
free all the monsters
flying nun
*
1:52:23 ()
twerps
anything new
s/t
chapter/underwater
*
1:55:04 ()
millionaire at midnight
coit tower
va-titan! it's all pop!
numero group
orig late '70s
1:58:09 ()
disco inferno
the long dance
the 5 eps
one little indian
cd reissue
*
2:11:42 ()
chris imler
vorwärts
7"
meeuw muzak
*
2:17:14 ()
gary wright
something very special
touch and gone
wb
1977
2:20:07 ()
screen vinyl image
stay asleep
strange behavior
custom made music
*
2:23:03 ()
rammstein
du hast
made in germany
universal
*
2:31:44 ()
barry adamson
destination
i will set you free
central control
*
2:34:59 ()
the marble vanity
you can't step on a rainbow
7"
slow fizz
*
2:44:49 ()
radar eyes
miracle
s/t
hozac
*
2:47:14 ()
nothing people
chasing something
smells like metal
captcha
*
2:50:49 ()
adam warrock
616 (radio edit)
you dare call that thing human?!?
silver age
New album out soon! More info at AdamWarRock.com
*
2:53:05 ()
<-- Previous playlist
| Back to
The Evan "Funk" Davies Show playlists
|
Next playlist -->
RSS feeds for The Evan "Funk" Davies Show:
Playlists feed |
MP3 archives feed
|
E-mail Evan Davies
|
Other WFMU Playlists
|
All artists played by The Evan "Funk" Davies Show
|
---
Listen on the Internet
|
Contact Us
|
Music & Programs
|
WFMU Home Page
|
Support Us
|
FAQ
Live Audio Streams:
Pop-up
|
128k AAC
|
128k MP3
|
32k MP3
|
32k Windows
---