Transpacific Sound Paradise

Saturday, April 30, 2011

Banda de los Muertos - the lost Barbès tapes...

Hear this show now: | Add or read comments


...well, not really lost... it's just that technology failed us during the first hour of our remote broadcast from Barbès in Park Slope on March 26 - so Banda de los Muertos's scorching set didn't make it to the airwaves. But we right that wrong with this broadcast.

Banda de los Muertos, by the way, is a stellar unit of NY jazz, experimental and multi-culti musicians playing the bombastic yet sublime brass band music of Sinaloa in northwestern Mexico - the first band in New York to take on this great tradition.

They hit the Brooklyn circuit again soon - for a big Cinco de Mayo show with Chicha Libre at Littlefield in Gowanus - plus Barbès shows on Saturday May 7 at 10 pm and Saturday June 4 at 10 pm.

Special thanks to remote engineers Irene Trudel, Mark Koch and Mike Cades and to volunteers Katie Gentile, Bil Bowen, Doron Gura and Veronica Liu.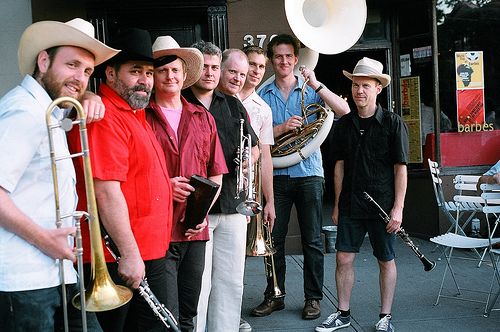 This Week's Playlist:
(* = new)
Pitom: Skin and Bones
/ Pitom / Tzadik (0:00:00 )
Maniacs vs. Sharkiat: Om el Khair
/ Don't Climb the Mountains / Barraka el Farnatshi (0:07:40 )
Al Ahram Orchestra: Saidi Rara
/ Various Artists: Rough Guide to Bellydance, Second Edition / World Music Network / * (0:11:32 )
Orchestre Karman: Track 2
/ Orchestre Karman / Fassiphone (0:13:48 )
Francoise Altan: Una Matica de Ruda
/ Sephardic Songs (0:24:58 )
West Philadelphia Orchestra: Prelude / I Don't Believe
/ West Philadelphia Orchestra (0:27:42 )
Petar Ralchev: As If in a Joke
/ Petar Ralchev (0:30:15 )
Chalga: Lehajilott a Kokeny Aga
/ Sabir (0:34:35 )
Sanda Weigl: Saraiman
/ Gypsy in a Tree / Barbes / * (0:38:07 )
Benjy Fox Rosen: Oy, How I Weep
/ Tick Tock / * (0:46:46 )
Ilusha Tsinadze: Mokhevis Kalo Tinao
/ Mother Tongue / * (0:49:14 )
Rana Santacruz: No Puedo Mas
/ Chicavasco / Oasis (0:51:42 )
Umalali: Barubana Yagien
/ Umalali / Cumbancha (0:56:00 )
Banda de los Muertos: Live from Barbès, Recorded March 26, 2011
(1:06:31 )
Angel Viloria y Su Conjunto Tipico Cibaeno: Merengue Cerrao
/ Merengues Volume 1 / Ansonia (1:48:19 )
Orchestre Jazz Corondo: Tu Nous As Parle
/ Various Artists: Mento, Merengue, Meringue / Original Music (1:51:20 )
Rameau Polean: Lakonmet Dance
/ Various Artists: Musical Traditions of St. Lucia, West Indies / Smithsonian Folkways (1:54:32 )
Amede Ardoin: Valse Brunette
/ Mama I'll Be Long Gone / Tompkins Square / * (1:57:22 )
Beausoleil: O Bebe Waltz
/ L'Écho / * (2:00:28 )
Samy Izy: Omaly
/ Tsara Madagasikara / Network / * (2:03:16 )
Franco & le TPOK Jazz: Fuala Nbombu Ngulu Kadia
/ African Party / African (2:08:04 )
François Ladrezo: Yonn Dé Twa
/ Espwa Kouraj (2:10:04 )
Los Munequitos de Matanzas: Abacua
/ Rumba Caliente / QBAdisc (2:14:53 )
Mahmoud Guinea: Assamaoui
/ Mahmoud Guinea / Azza Production (2:19:33 )
Orchestre Le Mariage Marocain: Track 2
/ Le Mariage Marocain / Fassiphone (2:31:33 )
Amir El Saffar: Khosh Reng
/ Two Rivers / Pi (2:36:36 )
Ndiaz: Kas Ha Barh
/ * (2:51:27 )
Unreleased
Irmaos Bertussi: As de Copas
/ Nos Pagos du Sul / SOM (2:55:31 )