Transpacific Sound Paradise

Saturday, April 16, 2011

Elikeh + New Releases / Mixed Bag

Hear this show now: | Add or read comments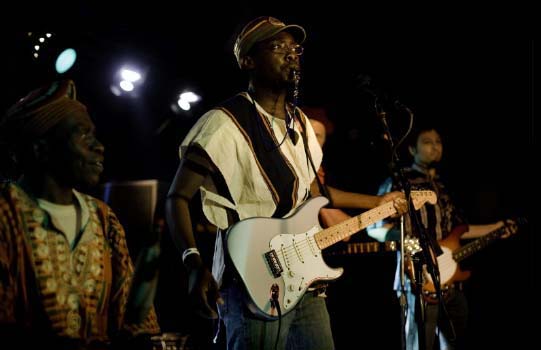 This week's show kicks off with a rocking set from Washington DC based Elikeh. Led by Togolese emigre Massama Dogo, Elikeh serves up buoyant blends of Afrobeat and rock mixed with traditional Togolese polyrhythms.

The Elikeh sound is a refreshing mixture, a broader musical palette than most contemporary Afrobeat bands - harkening back to classic Afro-rock bands like Osibisa (the 70s UK-based Ghanaian / Caribbean band cited by Dogo as a primary influence). The band has pan-African flavor too, with musicians from Togo, Benin, Cameroon and Nigeria (Nigerian rhythm guitarist Frank Martins played with the legendary Orlando Julius) - as well as the U.S.A.

Elikeh's excellent debut cd Adje Adje was released last year. Check out http://www.elikeh.com to learn more, and for info on upcoming gigs and to get in touch.

Big thanks: Our illustrious engineer Mark Koch and assistant Josh J.


This Week's Playlist:
(* = new)
Elikeh: Yema Yema (Live on WFMU)
(0:00:00 )
Elikeh: Get Ready (Live on WFMU)
(0:15:26 )
Elikeh: Oleblemi (Live on WFMU)
(0:22:44 )
Elikeh: Let's March (Live on WFMU)
(0:33:14 )
Elikeh: Jondji
/ Adje Adje / Azalea City (0:40:25 )
Aurelio Martinez: Weibayuwa
/ Laru Beya / Sub Pop / Next Ambiance / * (0:48:34 )
Electric Kulintang: Anitos (Spirits)
/ Dialects / Plastic (0:51:58 )
Juan Cholucha y Picaflorcita de Huamanga: Acochapelo
(0:59:22 )
Nancy Morocho: La Pulguita
/ Las Cholitas mas Chulitas (1:06:50 )
Piedad Torres: Flor de Olvido
/ Sanjuanitos de Oro Caymbenos / Yersy (1:08:17 )
Los Mirlos: Chinito end Onda
/ Various Artists: Beginner's Guide to Cumbia / Nascente / * (1:14:46 )
Lisandro Meza: La Cumbia Negra
/ Various Artists: Beginner's Guide to Cumbia / Nascente / * (1:18:28 )
Cantina y su Combo: Santa Marta Cumbia
/ Cartagena / Sound Way / * (1:20:35 )
Septeto Nacional Ignacio Pineiro: Coco Mai Mai
/ Mas Cuba Libres / Network (1:25:40 )
Orchestra Super Mazembe: Lukasi
/ Giants of East Africa / Earthworks (1:29:15 )
Samy Izy: Maro
/ Tsara Madagasikara / Network / * (1:36:56 )
Malika Zarra: Berber Taxi
/ Berber Taxi / Motema / * (1:39:47 )
Kasba: Zorona
/ Sodfa / * (1:49:10 )
Googoosh: Ki Midouneh
/ Doe Penjereh 4 / Caltex Records (1:53:27 )
Yacov Meir Alkobi : Track 2
/ Shirey Raba (2:01:16 )
Lord Nelson: All Day, All Night
/ Ah Ha / Richie's (2:07:26 )
The Mgababa Queens: Alukalwa Soweto
/ Various Artists: Next Stop Soweto Volume 2 / Strut / * (2:11:27 )
Orchestre Poly-Rythmo: Koumi Dede
/ Cotonou Club / Strut / * (2:15:26 )
Hazmat Modine with Gangbe Brass Band: Cotonou Stomp
/ Cicada / Barbes / * (2:21:55 )
Fanfare Pourpour: Danse de Breloques
/ Danse de Breloques / Mansieur Fauteux / * (2:25:20 )
Sandy Lopcic Orkestar: Usti, Usti, Babo
/ Border Confusion / Network (2:27:50 )
Dave Douglas: United Front
/ Brass Ecastasy at Newport (2:34:30 )
Dengue Fever: Mr. Bubbles
/ Cannibal Courtship / Concord / * (2:44:22 )
The Son of PM: Ra Cha Khlong Jhao
/ Hey Klong Yao! / * (2:48:12 )
Sanda Weigl: Saraiman
/ Gypsy in a Tree / Barbes / * (2:52:18 )