Transpacific Sound Paradise

Saturday, January 8, 2011

Zlatne Uste Balkan Brass Band live / Golden Festival,
Globalfest & APAP Preview

Hear this show now: | Add or read comments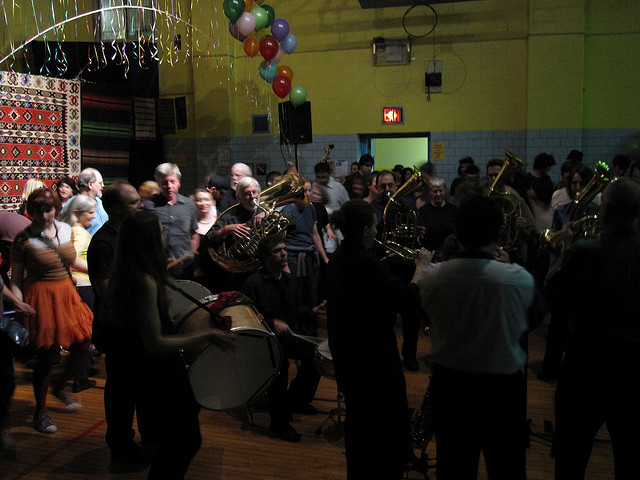 Zlatne Uste tearing it up at the 2010 Golden Festival.

The holidays may be over but the party isn't - two massive world musicky festivals are coming up (and a bunch of other great shows too) and Rob previews them this week:

On Sunday January 9, the annual multi-stage multi-cultural mega-showcase, Globalfest takes place at Webster Hall, 125 E 11 St in lower Manhattan. Globalfest is pegged to the annual Arts Presenters Conference a/k/a APAP (http://www.apapconference.org/). It's the biggest APAP-related "world music" showcase event but not the only one - in addition to playing music by several Globalfest performers, we also played tracks by artists playing some of the other APAP-pegged showcases. You can find listings of many of these showcases as well as the full Globalfest schedule in our NY metro concert calendar, http://www.wfmu.org/world.

And then on Friday and Saturday January 14-15, it's the return of the exuberant annual Balkan music and dance meltdown, the Golden Festival. The Golden Festival moves this year to the kitschy and fabulous Grand Prospect Hall, 263 Prospect Ave. in Brooklyn, with 7 bands in the Grand Ballroom on the 14th and 60 bands on four stages on the 15th.

Golden Festival founder and ringleaders the Zlatne Uste Balkan Brass Band, North America's first and finest Balkan band and and - in 1987 - the first American band ever invited play at the famed Dragačevo Trumpet Festival in Serbia (where they've returned several times since), get the festivities started early with a live set on FMU. After their session, we also hear tracks by a few of the 60 other artists playing the Golden Fest. .


This Week's Playlist:
(* = new)
Volebeats: 1000 Miles of Confusion
/ Volebeats / Rainbow Quartz / * (0:00:00 )
Real Vocal String Quartet: Kitchen Girls
/ Real Vocal String Quartet / Flower Note / * (0:05:55 )
Netnakisum: Kukidentvalzer
/ Netnakisum / Netnakisum (0:08:18 )
Ballake Sissoko and Vincent Segal: Oscarine
/ Chamber Music / Six Degrees / * (0:16:07 )
Rhythms of Rajasthan: Song of Camel Decoration
/ Rhythms of Rajasthan (0:24:34 )
Red Baraat: Punjabi Wedding Song (Balle Balle)
/ Chaal Baby / Sinj (0:30:01 )
Orquestra Contemporanea de Olinda: Cantoda Sereia
/ Orquestra Contemporanea De Olinda (0:37:54 )
Novalima: Se Me Van
/ Coba Coba / Cumbancha (0:41:16 )
Aurelio Martinez: Lumalali Limaniga
/ Garifuna Soul / Stone Tree (0:47:04 )
Yoro Ndiaye: Barissaxaya
/ Begg Dem / Ethnoworld (0:49:05 )
Zikrayat: Rumor
/ Cinematic (0:55:19 )
Zlatne Uste Balkan Brass Band: Lacin Cocek (Live on WFMU)
(0:59:59 )
Zlatne Uste Balkan Brass Band: Kozarica Kolo (Live on WFMU)
(1:07:35 )
Zlatne Uste Balkan Brass Band: Srebrin (Live on WFMU)
(1:14:19 )
Zlatne Uste Balkan Brass Band: Vranski Cocek (Live on WFMU)
(1:23:52 )
Zlatne Uste Balkan Brass Band: Boki 13 (Live on WFMU)
(1:27:09 )
Zlatne Uste Balkan Brass Band: Prodzoh Selo (Live on WFMU)
(1:34:16 )
Zlatne Uste Balkan Brass Band: Michael's Ruchenitsa (Live on WFMU)
(1:41:33 )
Zlatne Uste Balkan Brass Band: Cororo (Live on WFMU)
(1:53:10 )
Raya Brass Band: Live at Golden Fest 2009
(1:53:40 )
In Free Music Archive
Veveritse Brass Band: Yo Hanino
/ Veveritse Brass Band (1:56:07 )
Black Sea Hotel: Dimjaninka
/ Live on Irene Trudel's show on WFMU (1:59:24 )
In Free Music Archive
Slavic Soul Party: Opa Copa
/ Slavic Soul Party Remixed / Barbès (2:01:16 )
Fishtank Ensemble: Pena Andaluz
/ Woman In Sin (2:05:19 )
Bjonko & Copenhagen Chalgija: Otpisani
/ Demo (2:09:27 )
Debo Band: Musikawi Silt
/ Flamingoh (Pink Bird Dawn) EP 2010 (2:18:51 )
Live version
Bio Ritmo: Lisandra
/ Bionico / Locutor (2:24:24 )
Nomo: All the Stars
/ Ghost Rock / Ubiquity (2:30:44 )
Chicha Libre: Popcorn Andino
/ ¡Sonido Amazonico! / Barbès (2:37:56 )
Dave Holland and Pepe Habichuela: El Ritmo me Lleva
/ Hands / Dare2 (2:52:42 )
Huun Huur Tu: Ekki Attar
/ Ancestors Call / World Village (2:53:10 )