Transpacific Sound Paradise

Saturday, December 4, 2010

Samuel Thomas of Asefa / Sephardic Music

Hear this show now: | Add or read comments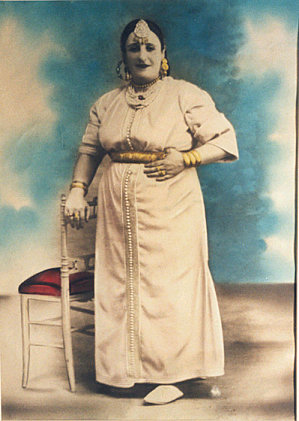 Zohara El Fassiya

Guest DJ Samuel Thomas introduces us to the wide world of Sephardic Jewish music. Thomas is a scholar of Sephardic traditions and leader of the group Asefa.

Samuel is involved with two events in the sixth annual NY Sephardic Music Festival (which coincides with Hanukkah, December 1-8, 2010): Asefa performs at the Edmond J. Safra Synagogue, 11 East 63rd St. on Sunday evening December 5; and Thomas moderates a Sephardic music seminar (with music by Vanessa Paloma and the d'Safi Takht Ensemble) at the Center for Jewish History, 15 W 16th St. on Monday evening December 6.


This Week's Playlist:
(* = new)
Los Van Van: La Campana del Amor
/ Edicion Especial / Egrem
Los Fulanos: El Pan y los Dientes
/ Various Artists: Achilifunk / Love Monk
Kermit Ruffins and Rebirth Brass Band: What is New Orleans
/ Throwback / Basin Street Records
Trombone Shorty: In the Sixth
/ Backatown / Verve / *
Chico Mann: Mentirosos
/ Analog Drift / Wax Poetics / *
Asefa: Aliz
/ Largo / SRT
Asefa: Habibi
/ Live at Zebulon / Unreleased
Samuel Thomas: Zohara
/ Live on WFMU / Unreleased
Asefa: Djema El Fna
/ Live at Makor / Unreleased
Haim Effendi: A La Una Nasse Lo
/ A La Una Nasse Lo / Odeon
Vanessa Paloma: ¿Por Qué No Cantáis la Bella?
/ Shirei Shevach - Songs of Praise - Alabanzas / Vanessa Paloma / *
Sarband: Morikos
/ Sepharad - Songs Of The Spanish Jews / Harmonia Mundi
Ensemble Alegria: Alta, Alta es la Luna
/ Chants Séfardes / Le Chant Du Monde
Zohara El Fassiya: Ayta Mulay Ibrahim
/ Various Artists: Melodies Judeo Arabes / Blue Silver
Haim Louk: Yodu Lecha Rayonai
/ Le Piout Marocain / Haim Louk
Lehakat Tzafon Maharav: Ohil Yom
/ Piyyutim / Lehakat Tzafon Maharav
Rabbi David Bouzaglo: Yedid Nefesh
/ Chants Hebreux de la Tradition des Juifs Morocains / Beth Hatefutsoth
Ezra Malakov: Yedid Nefesh
/ The Ancient Central Asian Bukharian Jewish Melodies / World Bukharian Jewish Congress
Hakki Obadia: Atah El Kabir
/ Iraqi Jewish Music / Global Village
Moshe Havusha: Dror Yiqra
/ Moshe Havusha / Aderet Music
David Shiro: Mahrozet
/ Piyyutim / Gaipaz
Salim Halali: Al Aine Ezzerga
/ L'essentiel / Atoll Music
Asefa: Ki Eshmera Shabbat
/ Asefa / SRT