Transpacific Sound Paradise

Saturday, November 27, 2010

New Memories of New Orleans, Concert Previews, Mixed Bag

Hear this show now: | Add or read comments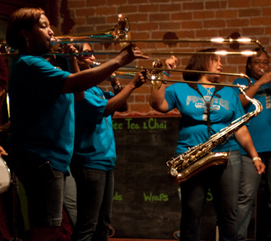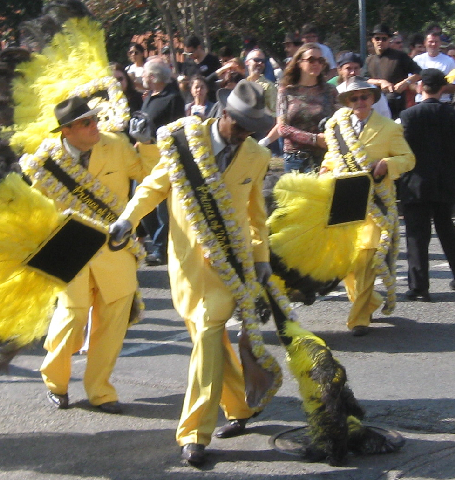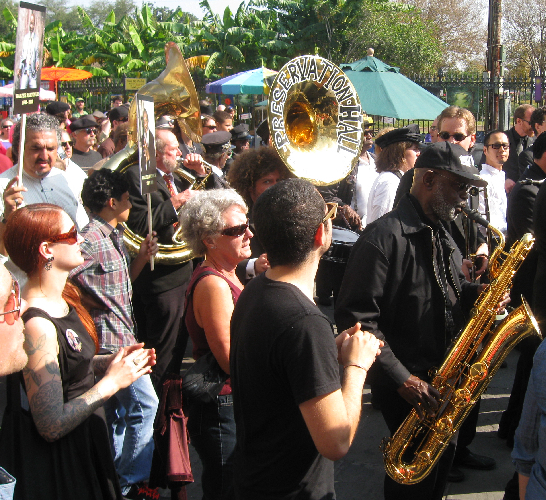 Pinettes Brass Band (c/o HONK Festival, Somerville MA) at left plus two photos (by Rob W) from the all-star second line funeral parade for Preservation Hall
Jazz Band bassist and beloved public school music teacher Walter Payton Jr., Jackson Square, French Quarter, New Orleans, Saturday November 20, 2010.


This Week's Playlist:
(* = new)
Pharaoh's Daughter: Ka Ribon
/ Haran / Oyhoo
Electro Morocco: Joe Pill
/ Various Artists: Sephardic Music Festival Vol. 1 / Shemspeed / *
Paco Mendoza: Cumbiame Remix
/ Consciente y Positivo / Chusma / *
Chancha Via Circuito: Bosques Via Temperley
/ Rodante / ZZK
El Remolon: La Bonita
/ Pibe Cosmo / ZZK
Invisible System: If That is What You Want
/ Punt - Made in Ethiopia / Harper Diabate
Melkam Kehonelish
The Wailing Wall (Jesse Rifkin): Dandelion
/ The Wailing Wall / JDub
Lo'Jo: Yalaki
/ Cosmophono / Wagram
Kackala: Loser
/ Entree / Kackala / *
Features former FMU DJ Stacey Rubin
Galeet Dardashti: The Naming
/ The Naming / Galeet Dardashti / *
Smadar Levi: Ghali Ya Bouy
/ Various Artists: Sephardic Music Festival Vol. 1 / Shemspeed / *
Soulico: Put 'Em Up
/ Exotic on the Speaker / JDub
Trombone Shorty: Neph
/ Backatown / Verve / *
Hustlers Brass Band: Sanford & Son Theme (Street Beater)
/ Second Line Soul / Mardi Gras Records
Pinettes Brass Band: Pinettes
/ Who Ya Gonna Call?...The Pinettes! / AGB
Proudly all-female band - picked this up at the fabulous Louisiana Music Factory on Decatur St. (near Canal) in NOLA - as seen on TV! (Treme, that is.)
Frank London's Klezmer Brass All-Stars: Out of What?
/ Carnival Conspiracy / Piranha
Featuring Aaron Alexander, Scott Kettner & Maracatu NY / From the repertoire of Bell's Romanian Orchestra
Frank London's Klezmer Brass All Stars: Midnight Banda Judia
/ Carnival Conspiracy / Piranha
Played this additional track by Frank London's brass outfit to feature vocalist Michael Alpert, a major figure in the klezmer revival of recent decades who has performed with his own klezmer band Brave Old World as well as Khevrisa, Kapelye, clarinetist David Krakauer and bandurist Julian Kytasty among many others.
Red Baraat: Aaj Mere Yaar Ki Shaadi Hai
/ Chaal Baby / Sinj
Congratulations to Red Baraat for landing a coveted slot in the lineup of Globalfest 2011 at Webster Hall in NY on January 9!
Brass Menažeri: Lal Lal Hothon Pe
/ Vranjski San / PFR / *
Underground Horns: Arabian Flavor
/ Big Beat / Underground Horns / *
Va Fan Fahre: Edela3 We3mel Mabadalak
/ Al Wa' Debt / Zephyrus / *
Natacha Atlas: Batkallim
/ Mounqaliba / Six Degrees / *
Annabouboula: Come Sit On My Sofa
/ Immortal Water / Byzan-Tone / *
Originally recorded in the early 1960s by Kaiti Grey
Duoud: Must
/ Ping Kong / World Village
King Ferus Mustafov: Injevska Gajda
/ Ora I Coceci / PGP-RTS
Verdi Barin, Vedat Coke, Haydar Barin: Kozanoglu
/ Davul Zurna Baglama / Erdal Muzik
Be-Being: Sooyeongyaryu
/ Various Artists: Into the Light II / MCST
Yesanojok: Hwimoi + Improvisation
/ Various Artists: Into the Light III / MCST / *
Kyaw Kyaw Naing: Beautiful Girl of Golden Complexion
/ Pat Waing: The Magic Drum Circle Of Burma / Shanachie
Played this one, better late than never, in honor of the release of Aung San Suu Kyi. We also heard additional music from this cd in the background during the concert calendar.
Fula Flute: Yadou Mayo
/ Mansa America / Completelly Nuts
Viento de Agua: El Leon
/ Materia Prima / Smithsonian Folkways
Sweet Micky: Obama
/ Kompa Prezidantiyèl (Live 3 CD Set) / Sweet Micky / *
Sweet Micky (real name Michel Martelly) who has played many a time at SOBs in NYC is a candidate for Haitian President (the election is scheduled for Nov. 28, 2010).
David Rudder: Down at the Shebeen
/ 1990 / Sire