Brian Turner: Playlist from August 10, 2010
Order and disorder in a freeform haze of terribly-played guitars, shorted-out electronics, found audio detritus, strange sounds from strange lands all around. Psych-punk-junk, collage, even pop. Lots of in-studio live performances to boot.
<-- Previous playlist | Back to Brian Turner playlists | Next playlist -->
---
August 10, 2010: w/interview with MICHAEL ROTHER (Neu! / Harmonia / Hallogallo 2010)

Listen to this show: | Add or read comments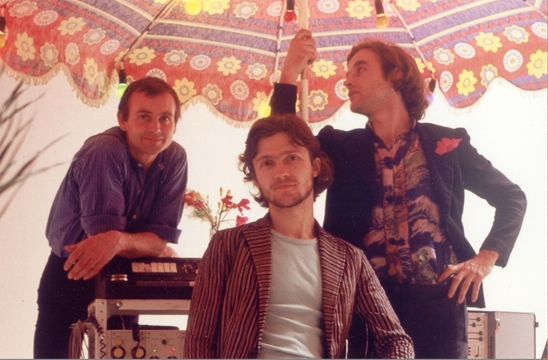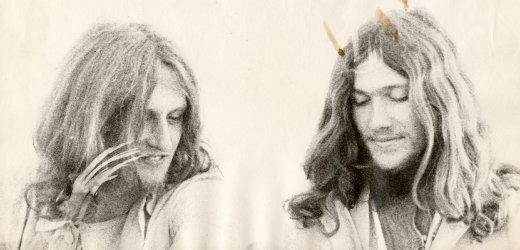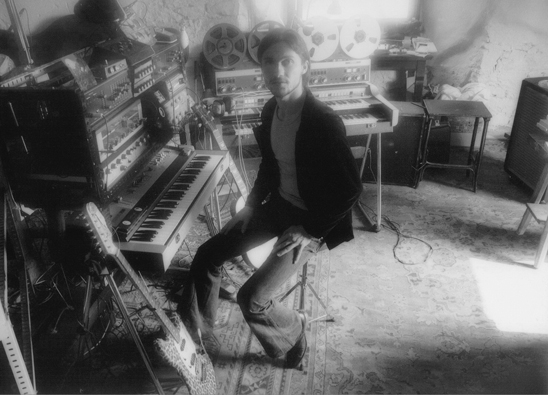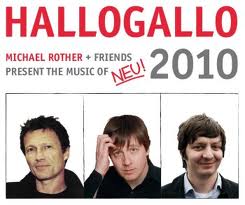 As participants in the heyday of early 70's Krautrock go, Michael Rother's resume and contributions to the world of experimental music and progressive rock might be among the highest. He spent time as guitarist in a 1971 incarnation of Kraftwerk, then co-founded the legendary combo Neu! with Klaus Dinger. With a combination of studio manipulations with producer Conny Plank, Dinger's driving motorik drumming and Rother's spirited and textural guitar playing, Neu! created a body of music that weighed heavily across sections of classic and modern music cornerstones as diverse as Joy Division, PiL, Bowie, and an entire electronic music scene. He also was a member of Harmonia, joining Cluster's Hans-Joachim Roedelius and Dieter Moebius, worked with Eno, and created a selection of solo recordings into the present time. Rother has been touring as Hallogallo 2010 using his past projects as a template for live performance, joined by Steve Shelley of Sonic Youth on drums, and Aaron Mullan of Tall Firs on bass. The trio recently performed during WFMU's broadcast at Primavera Sound in Barcelona, and have shows this week at Maxwell's, Lincoln Center, and in Philadelphia. Michael stops by Brian's show today joined by Steve and Aaron for an extended chat about his activities past and present, with a generous helping of excerpts from his great recordings.
(* = new)


| Artist | Track | Album | Label | Comments | New | Approx. start time |
| --- | --- | --- | --- | --- | --- | --- |
| Brlaab | Rammenas | Brlaab | | | * | 0:00:00 () |
| Rick Potts | Ne'er Do Whales | Kasper | No Label | | * | 0:04:03 () |
| Purple Brain | Excerpt | 7" + CD Mix | RVNG | | | 0:06:00 () |
| A Rancid Vat | Joy To the World | | | | | 0:14:39 () |
| Angel Face | Endless Road | Wolf City Blues | | | | 0:17:39 () |
| White Boy and the Average Rat Band | Leaving Tonight on Vacation | White Boy and the Average Rat Band | ?? | reissue | * | 0:20:44 () |
| Francisco Lopez | Conops | Conops | GD Stereo | | * | 0:25:13 () |
| Caroliner Rainbow | Pace & Mercy's List | Rings on the Awkward Shadow | | | | 0:36:52 () |
| Relcad | As Deep | Capitol Island | Pleasure Boat | | * | 0:41:26 () |
| Induced Labour | Lazarus Reflex | Cassette | No Label | | * | 0:49:03 () |
| Mac Blackout | Don't Let Your Love Die | 7" | Sacred Bones | | * | 0:49:56 () |
| San Francisco Water Cooler | Massive Darlings | II | Sun Sneeze | | * | 0:52:35 () |
| Alastair Galbraith | Concentrate | Mass | | | | 0:57:26 () |
| Hallogallo 2010 (Rother/Shelley/Mullan) | Live | Primavera Sound during WFMU's brodcast this past May | | | | 1:02:51 () |
| Michael Rother w/Steve Shelley & Aaron Mullan | Interview in WFMU studios | | | | | 1:12:45 () |
| Kraftwerk (Rother/Florian/Dinger) | Koln II | | | | | 1:36:23 () |
| Neu! | Cassetto | Neu! 2 | Brain / Astralwerks | | | 1:41:24 () |
| Michael Rother | Interview in WFMU studios (con'td) | | | | | 1:46:23 () |
| Harmonia (w/ Eno) | Luneberg Heath | Tracks and Traces | Rykodisc | | | 2:00:53 () |
| Harmonia | Ueber Ottenstein | Live 1974 | Water Music | | | 2:05:49 () |
| Michael Rother | Interview in WFMU studios (con'td) | | | | | 2:15:21 () |
| Hallogallo | Drone Schlager | New 7" | Vampire Blues | | | 2:29:26 () |
| Neu | Hero | Neu '75 | Astralwerks | | | 2:42:24 () |
| Michael Rother | Sonnenrad | Sterntaler | Water Music | | | 2:44:56 () |
| Hallogallo 2010 | Live | Primavera Sound during WFMU's brodcast this past May | | | | 2:51:02 () |
Hallogallo at Lincoln Center

<-- Previous playlist
| Back to
Brian Turner playlists
|
Next playlist -->
RSS feeds for Brian Turner:
Playlists feed |
MP3 archives feed
| Email
the Program Director
|
Other WFMU Playlists
|
All artists played by Brian Turner
|
---
Listen on the Internet
|
Contact Us
|
Music & Programs
|
WFMU Home Page
|
Support Us
|
FAQ
Live Audio Streams:
Pop-up
|
128k AAC
|
128k MP3
|
32k MP3
|
32k Windows
---