Order and disorder in a freeform haze of terribly-played guitars, shorted-out electronics, found audio detritus, strange sounds from strange lands all around. Psych-punk-junk, collage, even pop. Lots of in-studio live performances to boot.
August 3, 2010: w/live set from BILL ORCUTT

Listen to this show: | Add or read comments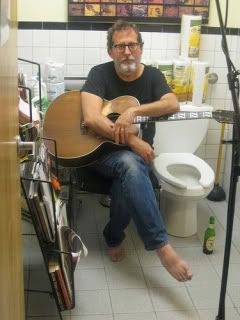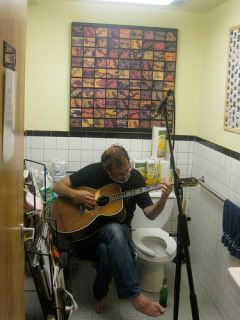 Bill Orcutt, live in the WFMU Head.
(* = new)
| Artist | Track | Album | Label | Comments | New | Approx. start time |
| --- | --- | --- | --- | --- | --- | --- |
| East Bionic Symphonia | 7:30 PM - 7:47 PM | East Bionic Symphonia | | | | 0:00:00 () |
| Monkey | | | | | | 0:11:37 () |
| Bryan Lewis Saunders | N1-N3 | N1-N4 Variations | Stand-Up Tragedy | sleeptalking recordings | | 0:17:49 () |
| Harry Pussy | Showroom Dummies | You'll Never Play In this Town Again | Load | ex-guitarist Bill Orcutt is on the show today playing live | | 0:20:44 () |
| People Tree | Lie Detector | | | | | 0:23:22 () |
| Ty Segall | 2 + 2 = ? | 7" | Trouble In Mind | | * | 0:33:39 () |
| The How | Polly | 7" | Slumberland/555 | | * | 0:35:39 () |
| Ecstasy Garage Disco | Excerpt | Live Convention '80 | Disc-O-Wax | | * | 0:38:02 () |
| Therios | Lobotomy | II | Hollenden | | | 0:42:21 () |
| Melvin Van Peebles | You Can Get Up Before Noon Without Being a Square | Brer Soul | RPM | | * | 0:46:43 () |
| Unknown | Let the Children Play | Various: Boddie Acetate Box | Numero | | * | 0:50:56 () |
| Cochemea Gastelum | No Goodbyes | The Electric Sound of Johnny Arrow | Mowo! | | * | 0:52:45 () |
| The High Confessions | Dead Tenements | Turning Lead Into Gold With the High Confessions | Relapse | | * | 0:56:18 () |
| Those Attractive Magnets | 1500 | Electromagnetic Pulse | Dark Entries | | * | 1:13:14 () |
| Drinking Electricity | Discord Dance | Overload | Survival | | | 1:17:58 () |
| Shed | No Way! | The Traveller | Ostgut Ton | | * | 1:21:24 () |
| Neu! | Hallogallo | Neu! | | Michael Rother will be visiting the show for a chat next week! You can see Hallogallo (Michael Rother/Steve Shelley/Aaron Mullan) playing Neu!/Harmonia and solo Rother music live at Maxwells Wednesday, and Damrosch Park/Lincoln Center (free) Friday | | 1:25:48 () |
| Rosa Extra | Was Mir Deine Schleuder Ist Mir Deine Waschmaschine | Various: Spannung, Listung, Widerstand | Zick Zack | | | 1:41:27 () |
| Razen | Razend Zand | Split LP w/Sheldon Siegel | Kraak | | * | 1:45:30 () |
| Congresswoman Malinda Jackson Parker | Cousin Mosquito version 1 | Tubman Goodtype Songs of Liberia | | | | 1:49:15 () |
| Master Musicians of Jajouka | Untitled | Boujeloud's Cave - 1974 | No Label | | | 1:52:40 () |
| Bill Orcutt | Live in the WFMU 4th Floor Bathroom | Engineered by David Mambach | | During the 1990's, Miami's Harry Pussy provided among the most confrontational and challenging recordings and live sets to a post-hardcore generation, and Bill Orcutt's blasted guitar playing defied easy categorization. Such is the case upon his return last year with a solo LP A New Way to Pay Old Debts, whereupon he takes an old Kay acoustic guitar rigged with a found pickup and tears out some unbelievably gutted, aggressive yet defined picking/shredding compositions to make even even seasoned guitar composition connoisseurs turn their heads for the mere reason that you've rarely heard the instrument approached this way. Comparisons to the woolier moments of Cecil Taylor, fractured player-piano- roll sounds of Conlon Nancarrow all enter a decidedly unguitar-like realm of performance, with gutbucket resonations and almost microtonal approach to strings in the spirit of pure freedom and anarchy. More info: http://palilalia.com/ UPDATE: You can now download MP3s of this session via the Free Music Archive | | 2:02:53 () |
| Bill Orcutt | Interview | | | | | 2:36:19 () |
| Harry Pussy | Showroom Dummies | What Was Music? | Siltbreeze | | | 2:37:06 () |
| Harry Pussy | The White Improviser | What Was Music? | | | | 2:39:48 () |
| Harry Pussy | Sex Problem (live) | You'll Never Play This Town Again | Load | | | 2:41:15 () |
| Harry Pussy | I Started a Band | Ride a Dove | Siltbreeze | | | 2:44:27 () |
| Drakh | View Over Tuscany | Bethlehem | Essence Music | | * | 2:48:46 () |