Transpacific Sound Paradise

Saturday, January 9, 2010

Namgar + Nuala Kennedy

Hear this show now: | Add or read comments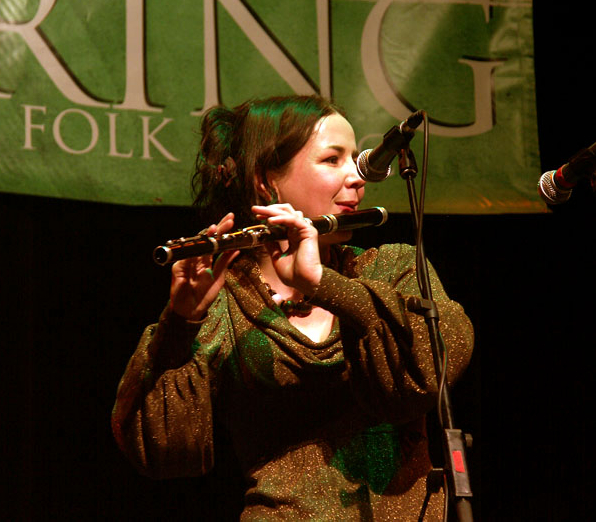 Namgar, Nuala Kennedy.

Chilly January is a torrid time of year for world music in NYC - scores of bands come to play showcases during the annual APAP arts presenters conference. Two of them perform live in-studio tonight.

First, Namgar, a singer from Buryatia in the far reaches of the Russian Federation, near Mongolia. Namgar and her band are bringing their distinctive blends of Buryat traditions and 70s heavy rock stylings to NY for the first time. They wowed the big crowd at the annual Globalfest world music showcase at Webster Hall on Sunday night - and they also play a more intimate show at The Shrine, 2271 Adam Clayton Powell Blvd in Harlem (near 133 St) on Thursday January 14 at 10 pm.

Later, Edinburgh, Scotland based Irish traditional flautist Nuala Kennedy and band perform. Nuala has expanded her horizons collaborating with the likes of Will Oldham and members of Teenage Fanclub and Gorky's Zygotic Mynci as well as Appalachian singer Archie Roach. Her January 2010 whirlwind tour of NY took her to WFMU Studio B as well as The Living Room, Drom, Zebulon, Zebulon, Banjo Jim's and Scandinavia House. Her sophomore solo CD is coming out in early 2010: Tune in (Compass Records)

Big thanks to engineer Diane Farris with assistants James Reber and Mark Koch on the Namgar session, engineer Dave Keay of Boot Camp Recordings mobile recording company in Edinburgh, Scotland and assistant Dave Mambach on the Nuala Kennedy session, and to Namgar's producer Leonid Vorobyev.


This Week's Playlist:
(* = new)
Namgar: Yokhor
/ Live at WFMU
Namgar: Yokhor
/ Live at WFMU
Namgar: Medley - Lake Bunting & Yokhor
/ Live at WFMU
Namgar: Interview

Thanks to Jan (have to confirm spelling!) for interpreting!
Namgar: Orphaned Camel Colt
/ Nomad / LV Production
Nguyên Lê: Hen Ho
/ Saiyuki / ACT / *
"Promise of a Date"
Abaji: Turkish Gypsy
/ Origine Orients / Absilone Music / *
Masters of Persian Music: Chahar Mezrab
/ Without You / World Village
Fishtank Ensemble: Fraima
/ Samurai over Serbia / *
Slavic Soul Party: Baltika
/ Taketron / Barbes
David Greely: Paul Junius Malveaux's Tune
/ Sud du Sud / Give and Go / *
From Lafayette LA, founding fiddler of the Mamou Playboys. This song was adapted from a harmonica tune culled from the Lomax Archives.
Cedric Watson: Lafayette La La
/ Lesprit Creole / Valcour Records / *
Crooked Still: Did You Sleep Well
/ Still Crooked / Signature Sounds
Kropotkins: Little Drag Racer
/ Paradise Square / Mulatta / *
17 Hippies: Bound For Morning
/ El Dorado / Hipster
Nuala Kennedy: Footsteps
/ Live at WFMU
Nuala Kennedy: Thios Cois Na Tra
/ Live at WFMU
Nuala Kennedy: The Spider and the Fly
/ Live at WFMU
Nuala Kennedy: The Books in My Library
/ Live at WFMU
Nuala Kennedy: Fireballs of the Eucharist
/ Live at WFMU
Composed by Oliver Schroer.
Nuala Kennedy: Five Mile Town
/ Live at WFMU
Nuala Kennedy: Star of Belle Isle
/ Live at WFMU
Nuala Kennedy: The Waves of the Silvery Tide
/ Tune In / Compass / *
With Bonnie Prince Billy (Will Oldham)
Smadj: Selen
/ Selin / MVS records - Bassofone! / *
Oi Va Voi: Magic Carpet
/ Travelling the Face of the Globe / Liason
Monica Jalili: Bia Bia Benshin
/ Elan
Josef Van Wissem: The Stars Fall From the Sky and the Heavens Are Rolled Up Like a Scroll
/ It Is All That Is Made / Important Records / *