Transpacific Sound Paradise

Saturday, December 5, 2009

Puerto Plata

Hear this show now: | Add or read comments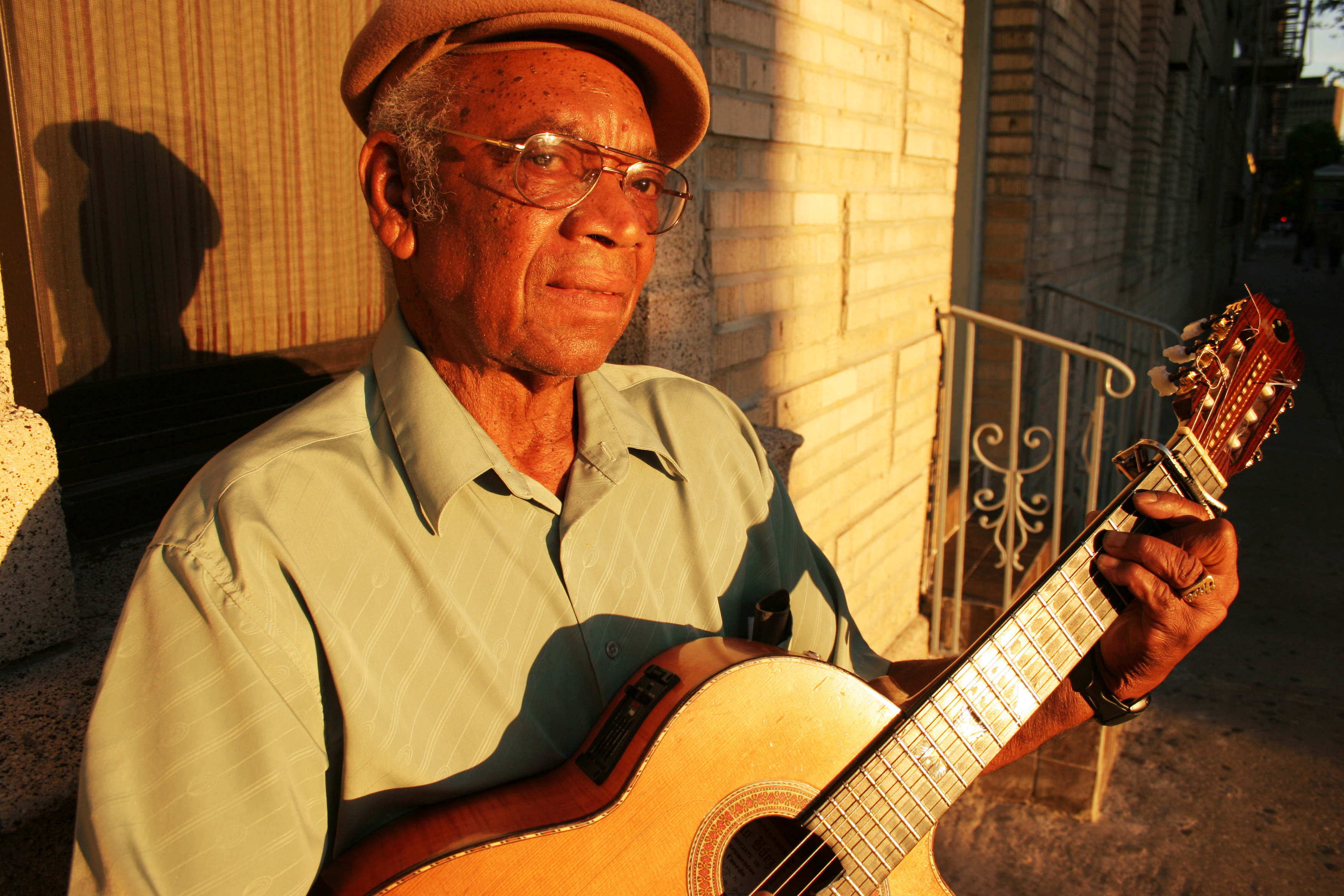 Puerto Plata.

Jose Cobles, nicknamed Puerto Plata after the town where he was born in the Dominican Republic in 1923, has been singing and playing almost since the day he was born. But various obstacles - first from the repressive Trujillo regime and later, societal trends in general - limited his musical opportunities.

So he had never recorded an LP until 2007, when IASO, a label dedicated to the acoustic roots of Dominican music, released his acclaimed debut "Mujer de Caberet". Puerto Plata stops by to talk about his life in music and his brand new second release on IASO, Casita del Campo.

Also joining us is David (Court) Wayne, who has played with Puerto Plata and written some of the many informative articles on Dominican musical traditions and artists on the IASO site and liner notes for the cds.

Puerto Plata has a few concerts scheduled in Texas and New Mexico in April 2010, and a tour of the Netherlands in late May. Tour dates here: http://www.iasorecords.com/tours-concerts.cfm.

Historical peg for today's show (thanks DJ Daniel Blumin for pointing this out): December 5 (the date this show aired) in 1492 was the date Christopher Columbus landed at Hispaniola - the island that comprises the Dominican Republic and Haiti.


This Week's Playlist:
(* = new)
Silüetler: Kaşık Havası
/ Various Artists: Altın Mikrofon / DMC
Replikas: Bozuk Düzen
/ Zerre / Peyote Muzik
Namgar: Tunka
/ Nomad / LV Production
A wedding song
Nick Cave & Warren Ellis: Clean Hands and Dirty Hands
/ The Proposition Original Soundtrack / Mute
Lovasz Iren: Wide is the Danube
/ Vilagfa / Fono
With Hortobagyi Laszlo
Vlada Tomova: Momche
/ Balkan Tales / Kuker Music / *
Brenna MacCrimmon & Kulak Misafiri: Yildiz Dagi Iste de Geldim Yanina
/ Events in Small Chambers / Green Goat
Ilyas Malayev Ensemble: Saqinama-I Iraq-I Bukhara
/ At the Bazaar of Love / Shanachie
Gaida: Ammar
/ Levantine Indulgence / Palmyra / *
Salaam: Retik
/ Salaam / *
Puerto Plata: De Que Te Vale
/ Casita de Campo / IASO / *
Puerto Plata: Baracoa
/ Mujer de Cabaret / IASO
Puerto Plata: Brisa de la Tarde
/ Casita de Campo / IASO / *
Puerto Plata: Los Piratas
/ Mujer de Cabaret / IASO
Puerto Plata: La Comelona
/ Mujer de Cabaret / IASO
Puerto Plata: Trujillo stories (spoken)

Translation by Cort Wayne
Puerto Plata: Los Perros
/ Casita de Campo / IASO / *
Willie Colon: La Murga
/ Asalto Navideno / Fania
Canta: Hector Lavoe. Featuring Yomo Toro, cuatro (which has ten strings, contrary to whatever I may have said on the air!)
Papi Brandao Y Su Conjunto Aires Tablenos: Bilongo
/ Various Artists: Panama 3 / Soundway / *
Los Caneyes: Suspirando por el Chkjichaka
/ Various Artists: Si, Para Usted Volume 2 / Waxing Deep / *
Dar International Orchestre: Mwana Acha Ujinga
/ Various Artists: Zanzibara 5 / Buda Musique / *
Franco: Cooperation
/ Francophonic 2 / Sterns / *
Debo Band: Gedamay
/ Demo / *
Music bed for concert listings.
Debo Band: Embwa Belew
/ Demo / *
Next week's guests (along w/ Pharaoh's Daughter); playing w/ Ansambl Mastika @ Drom 85 Ave A NYC on Friday (Dec. 11). Cover of an Ethiopian classic originally performed by Muluqen Mellesse and also Mahmoud Ahmed.