Transpacific Sound Paradise

Saturday, November 21, 2009

Vlada Tomova's Balkan Tales

Hear this show now: | Add or read comments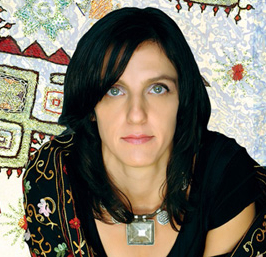 Singer and composer Vlada Tomova conjures original musical blends from her native Bulgaria and elsewhere in the Balkans, the Mediterranean and the Middle East. Vlada's vocal group Yasna Voices was featured prominently on the first Balkan Beat Box CD. Now she has assembled a stellar multi-instrumental ensemble and released her first full-length CD, Balkan Tales.

Vlada and ensemble will celebrate the new CD with a concert at the Puffin Cultural Forum in Teaneck, NJ on Saturday, December 5 - and they give us a live taste on tonight's show.

Many thanks to our illustrious engineer Glenn Luttman.


This Week's Playlist:
(* = new)
Dengue Fever: Genger Genger
/ 7" / Barbes / *
Lorna: Lisboa
/ Various Artists: Konkani Songs / Trikont / *
Cesaria Evora: Tchom Frio
/ Nho Sentimento / Nonesuch / *
Martinho da Vila: Selecao de Partido-Alto
/ Memorias de Um Sargento de Milicias / RCA
Tabou Combo: Ti Gran Mou'n
/ Respect / Mini Records / 1973
Lola Martin: Edamise Oh!
/ Various Artists: Tumbele / Soundway / *
Incorrectly credited on the air - thanks to listener Dirk in Belgium for the correction!
David Murray and the Gwo-Kwa Masters: Moman Colombo
/ Yonn-De / Justin Time
Kaleta and Zozo Afrobeat: Shake Your Nyansh
/ Country of Guns / Kaletamusic / *
Also comes as a free bonus disc with the recently released Rough Guide Afrobeat Revolution cd (World Music Network)
Shantel: Bucovina Original
/ Planet Paprika / Crammed Discs / *
Vlada Tomova: Leili
/ Balkan Tales / Kuker Music / *
Vlada Tomova: Momche
/ Live on WFMU
Vlada Tomova: Dimianinka
/ Live on WFMU
Vlada Tomova: Augoustos
/ Live on WFMU
Nikos Papazoglou song
Vlada Tomova: Messechinko
/ Live on WFMU
Vlada Tomova and Rima Fand: Kaali Svirat
/ Live on WFMU
Vlada Tomova and Rima Fand: Kuzum Elenke
/ Live on WFMU
VladaTomova: Women's Dance
/ LIve on WFMU
Cyminology: Sendegi
/ As Ney / ECM
Rupa and the April Fishes: Culpa de la Luna
/ Este Mundo / Cumbancha / *
Los Pikadientes de Caborca: Sopa de Caracol
/ La Tenía Más Grande / Sony
Song originally composed by the Belizean Garifuna singer Chico Ramos in 1987. A punta rock style version by the non-Garifuna Banda Blanca from Honduras became a pan-Caribbean hit.
Slavic Soul Party: Taketron
/ Taketron / Barbes / *
Vijay Iyer Trio: Galang
/ Historicity / The Act Company / *
Alé Kumá: Las Olas de la Mar
/ Cantaoras / Millenium
Sebastian Cruz & The Cheap Landscape Trio: Paradis Quarter
/ Sebastian Cruz & The Cheap Landscape Trio
Konono No. 1: Paradis
/ Congotronics / Crammed Discs
Debo Band: Adderech Arada
/ Demo
Brahim Belkani: Chalaba Titara
/ Various Artists: Ouled Bambara / Thrill Jockey / *
George Coleman: Great
/ Bongo Joe / Arhoolie
Music Bed for Concert Listings
Yasmin Levy: Una Ora
/ Mano Suave / Four Quarters / *
Electro Morocco: Joe Pill
Fort Nox Five: Bhangra Panch
/ Various Artists: New Gold Standard Two / *
Ihashi Elimhlophe: Inkiya Nkiya
/ Various Artists: Maskandi Hits / Gallo