Transpacific Sound Paradise

Saturday, October 31, 2009

Pink Puffers + Halloween

Hear this show now: | Add or read comments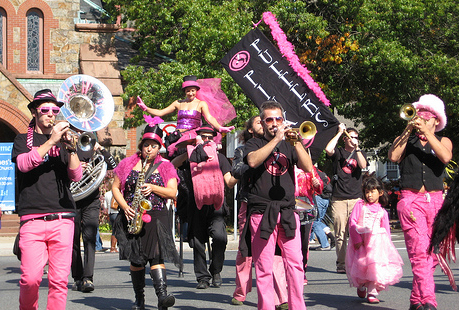 Pink Puffers on parade. From TPapi's HONK Festival 2009 Flickr photo set.

The Pink Puffers brass band regularly fills the streets, squares and historical sites of Rome with their buoyant brand of funk, soul, jazz and New Orleans inspired originals and covers, not to mention the occasional Italian 70s film soundtrack. The rambunctious Romans hit our shores earlier this month at the invitation of the fabulous HONK Festival, a grand gathering of activist street bands held annually in the Boston area.

HONK festival bands are known for their vaudevillian antics - stilt walking, juggling etc. - and outrageous costumes. The Pink Puffer's own trademark bright pink outfits are more carnivalesque than scary perhaps - but their Vespa-throttling volume is definitely not for the timid. The thirteen Puffers squeezed into FMU Studio B for a blood-curdling, spine-tingling live session.

The HONK festival is a blast, with bands playing on the streets of Boston, Harvard Square in Cambridge, and a full day on multiple stages in Davis Square, Somerville. There is also a parade, and a big concert finale. Usually the festival is held on Columbus Day Weekend.

Some two dozen bands traveled from around the country - and two from Italy - to participate this year. And in keeping with the participatory spirit of the event and the activist band movement, this year you could sign up to play in a one-off pickup band and march in the parade even if you didn't come with a band. See http://www.honkfest.org for images and video from the festival and to learn more.

Also on this show: Somewhat scary internationally-flavored songs and tarantellas for Halloween.

Special thanks to our illustrious assistant engineer Bil Bowen - inventor of the revolutionary frame drum mic, the Pandeiro Microphone!


This Week's Playlist:
Dream Syndicate: Halloween
/ The Days of Wine and Roses / Rhino / Slash
Fairport Convention: Tam Lin
/ Liege and Lief / A & M
Steeleye Span: Allison Gross
/ Parcel Of Rogues / Shanachie
The Country Gentlemen: Bringing Mary Home
/ The Early Rebel Recordings 1962-1971 / Rebel
Bonzo Dog Band: Look Out, There's a Monster Coming
Wilfrido Vargas: El Extraterrestre (Version Robotica)
/ El Extraterrestre / Rodven
Aterciopelados: Dia Paranormal
/ Rio / Nacional
Uri Geller vs the Colombian Paramilitary - A Halloween Nightmare!
Lisandro Meza: Cumbia de los Locos
/ Lisandro's Cumbia / World Circuit
Dan Zanes: La Bruja
/ Nueva York / Festival Five
Vocals: Lila Downs
Los Caballeros: Dracula Cha Cha

Malaysian, curiously enough. Thanks to WMBR's The Intercontinental, Jesse Kaminsky's show Wednesdays 6-8 pm on WMBR, Cambridge MA. We heard this song on Jesse's terrifying Halloween special earlier this week (playlist and archive here).
Lord Kitchener: Love in the Cemetery
Harry Belafonte: Zombie Jamboree
Pink Puffers: Manlio

Live on WFMU
Pink Puffers: Roma a Mano Armata

Title song from 70s Italian film / Live on WFMU
Pink Puffers: Portace N'Artra Pecora, Kebbabbaro

Live on WFMU
Pink Puffers: Fear for Fever

Live on WFMU
Pink Puffers: Backside Love

Live on WFMU
PInk Puffers: Miracle

Live on WFMU
Pink Puffers: Push It

Hungry March Band song / Live on WFMU
PInk Puffers: Ended Love Without a Reason

Live on WFMU
Pink Puffers: Better Get it In Your Soul

Mingus classic / Live on WFMU
Pink Puffers: Heavy Brass

Live on WFMU
Monty Python: The Witch
/ Life of Brian (DVD)
Nistanimera: Chore
/ Chore
Pietro Cillone: Novina e Soni a Bailu
/ Various Artists: Tribu Italiche 9 - Calabria
Tarantella played on the fabulous southern Italian Launeddas
Quartaumentata: Vai
/ Pizzica La Tarantula
Il Parto delle Nuvole Pesante: Raggia
/ Various Artists: Tribu Italiche 9 - Calabria
Gogol Bordello: Harem in Tuscany
/ Super Taranta! / Side One Dummy
Agostones: Ordogbomba
/ Ordogbomba / Etnofon
The Devil's Bomb. Project of Hungarian musician Bela Agoston, who sings and plays saxophone and bagpipes.
Lou Quinse: Calant de Villafranca
/ Pour Passer Lou Rhone / Lou Quinse
Jim Albertson: The Jersey Devil
Caterina Caselli: Puoi Farmi Piangere

I Put a Spell on You - the Italian Hit Version
Richard Thompson: Season of the Witch
/ Various Artists: Crossing Jordan (Television Soundtrack) / Sony
Natacha Atlas: I Put a Spell On You
/ Ayeshteni / Mantra
Yat-Kha: Black Magic Woman
/ Re-Covers / World Village
Bo Gumbos: Zombie-Zomb
/ Bo & Gumbo / Sony