Transpacific Sound Paradise

Saturday, August 1, 2009

Alash Live + New Releases, Mixed Bag

Hear this show now: | Add or read comments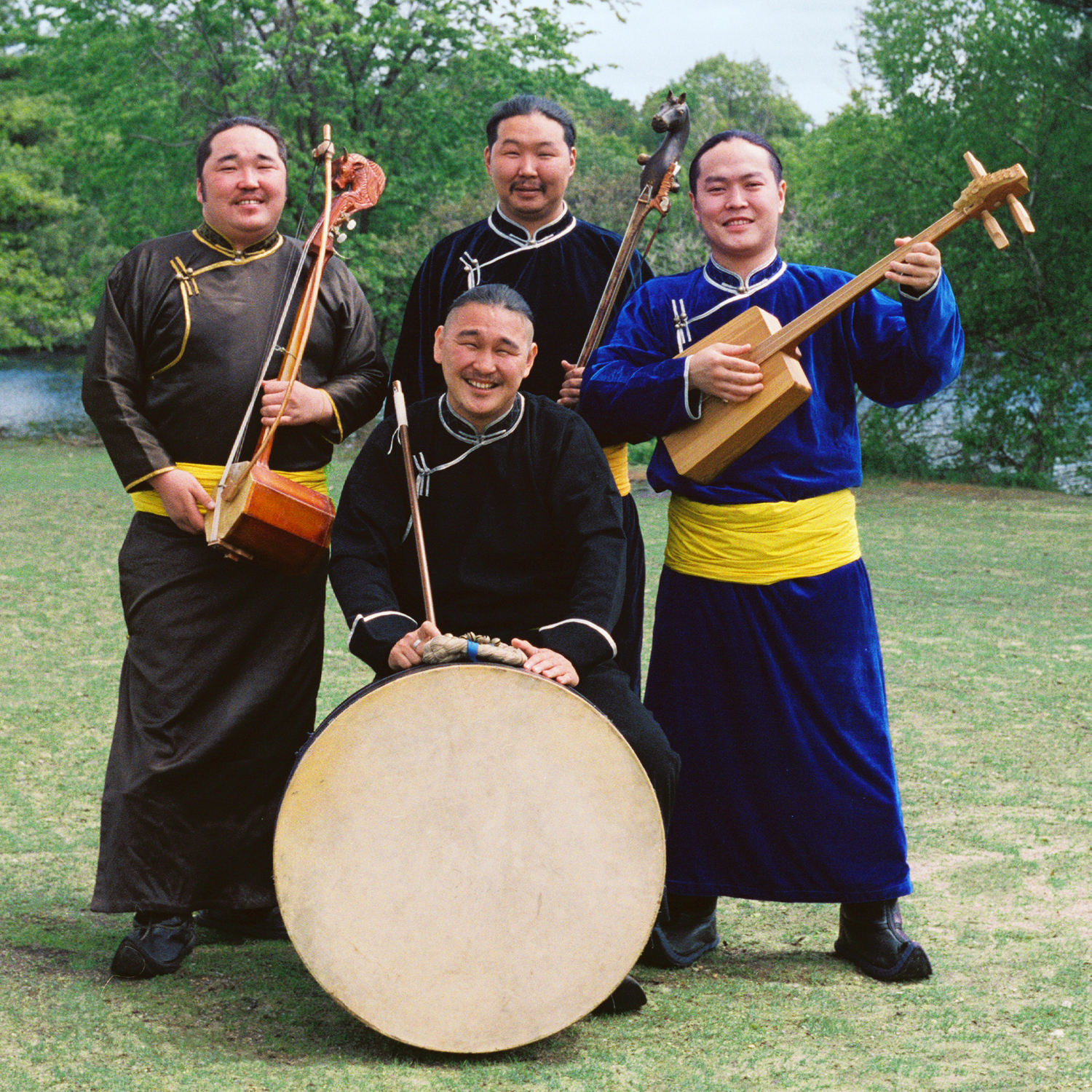 Alash is a quartet of master throat singers and instrumentalists from Tuva, the tiny but music-rich Central Asian republic. Proteges of Tuvan musical ambassador Kongar-ool Ondar (who you may know from the documentary film Genghis Blues), Alash mainly focuses on traditional repertoire. But the group also cites Jimi Hendrix as an influence and has collaborated with the Sun Ra Arkestra and Béla Fleck.

Alash is currently on the road in North America - gigs in the WFMU area include an August 9 date with the Sun Ra Arkestra at the Rotunda in Philadelphia, and their tour-ending August 15 gig at cozy Barbes in Park Slope, Brooklyn. See http://www.alashensemble.com for full info on tour dates. The website also includes excellent background on the group, the traditions, the songs and the instruments (including images of course).

We catch the ensemble for a live session, with background provided by their sidekick and sometime collaborator Sean Quirk. Thanks to our illustrious engineer, Mark Triant


This Week's Playlist:
(* = new)
Babasonicos: El Idolo
/ Mucho / Universal / *
Susheela Raman: Love Trap
/ Love Trap / Narada
Samim: Heater
/ Heater / Physical (12")
Claud Vonstroke mix / Samples Cumbia Cienaguera by Alberto Pacheco.
Dengue Fever: I Feel Love
/ Radio Dance Floor / M80 / *
Featuring Inara George. Download-only release.
Los Amigos Invisibles: Sueno Erotico
/ Commercial / Nacional / *
Sladka Yagoda: Ah, Samara-Gorodok
/ Ah, Samara-Gorodok / Eastex Music
Artist: Сладка ягода - "Sweet Berry"; cd and song title "Ах, Самара-городок" means "Ah, Samara City". Russian disco-folk cd I picked up in the Jerusalem Bus Station.
Iggy Pop: Les Feuilles Mortes (Marc's Theme)
/ Preliminaires / Astralwerks / *
Burhan Ocal and the Trakya All Stars: Opaz
/ Various Artists: Istanbul Twilight / Doublemoon
Smadj mix / vocals: Burcu Baş
Sjahin During: African Donkey
/ Afro Anatolian Tales / Doublemoon / *
Vocals: Aynur
Roberto Rodriguez: Oran Oran
/ Timba Talmud / Tzadik / *
Alash: Synn Miyar

Live on WFMU
Alash: Bashtak-la Deesh Meni Kanchaar? (I'm a Joker)

Live on WFMU
Alash: Dekei-oo and Saiyzyral
/ Alash
Huun Huur Tu and Carmen Rizzo: Orphaned Child
/ Eternal / *
Kongar-Ol Ondar: Where Has My Country Gone?
/ Back Tuva Future / Warner Brothers
With Willie Nelson
Berry Sakharof: Malitzati Bedagati Hadufa
/ Ibn Gabirol / Helicon Records / *
With Rea Mochiach. 12 new songs with lyrics taken from the poetry of 11th century Jewish philosopher Solomon Ibn Gabirol.
Niyaz: Hejran
/ Nine Heavens / Six Degrees
Keyvan Chemirani with Faiz Ali Faiz: The Light of the Eyes of Believers is Ali
/ Le Rhythme de la Parole / Accords Croises
Toto La Momposina: Curura
/ La Candela Viva / Real World
The title of the cd refers to a ball of fire, made of cloth, that is kicked around the street in the village of Talaigua (Toto la Momposina's home village on the remote island of Mompos in northern Atlantic coast Colombia).
Toto La Momposina: Mami Wata
/ Pacanto / World Village
Slavic Soul Party: Have a Beer (Remix)
/ Remixed / Barbes
17 Hippies: Atchafalaya
/ El Dorado / Hipster / *
Toni Kitanovski and the Cherkezi Orchestra: Tetovska
/ Borderlands / Enja
Macedonian jazz guitarist and his big band.
Auktyon: Debil
/ Girls Sing / Geometriya