Brian Turner: Playlist from July 7, 2009
Order and disorder in a freeform haze of terribly-played guitars, shorted-out electronics, found audio detritus, strange sounds from strange lands all around. Psych-punk-junk, collage, even pop. Lots of in-studio live performances to boot.
<-- Previous playlist | Back to Brian Turner playlists | Next playlist -->
---
July 7, 2009: w/live set from AFTERPARTY

Listen to this show: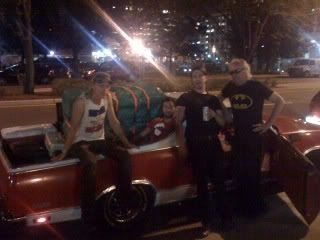 Afterparty's touring van...er, El Camino. 2000 miles, some suntans are being had.
(* = new, *** = special)


Artist
Track
Album
Label
Comments
New / Special
Approx. start time
Human Eye
Slop Culture
Fragments of the Universe Nurse
Hook Or Crook
0:00:00 ()
Jefferson Airplane
Law Man
Bark
Grunt/RCA
0:04:07 ()
Tonstarssbandht
Walken With Jesus
An When
*
0:07:08 ()
Tyvek
What To Do
Tyvek
Siltbreeze
*
0:09:32 ()
Zaaku
Seal
Seal
0:18:34 ()
Hassara
I Know You My Friend
Backyard I-III
Three Lobed
*
0:26:49 ()
Scattered Order
This Is a Song About Love
Various: M-Squared Retrospective: Pardon Me For Barking In Like This
Vinyl on Demand
*
0:27:15 ()
Dont Fuck with the Bears
NJ PSA
0:31:54 ()
The Bear Took My Hoagie
0:32:01 ()
Jay Mundy
Sez Put down the Bong Williamsburg
0:32:14 ()
Butthole Surfers
Moving To Florida / Hurdy Gurdy Man / USSA / Lady Sniff
The Whole Truth...and Nothing Butt
Trance Syndicate
0:41:29 ()
Total Abuse
Ain't Got No One
Demo 06
Even Worse
coming up live on the show next week (if all goes to plan)
*
0:58:24 ()
Onna
The Swan Song
Onna
Holy Mountain
*
1:04:06 ()
The Stranglers
Something Better Change
Various: Winter of Discontent
1:11:03 ()
Oblivians
Oh How To Do Now
Barristers In Ninetyfive
In the Red
*
1:14:04 ()
Charlie McAlister
Song of Spring
Midlife Crisis
Rah Rah
*
1:16:57 ()
Eric Ostrowski/Charlie McAlister
Sailing Trip
The Year of Suspended Sap: Another Look Atthe Portions the World Forgot
Friends and Relatives
*
1:20:31 ()
Textile Orchestra
The Beginning of the End
For the Boss
Beta-Lactam Ring
*
1:21:01 ()

Live set by Afterparty (Listen to this set: )
Afterparty
Live in the WFMU studio
Engineered by Sean Austin
Texas psychedelic punk meltdown with a full house of assorted past and present players of the Houston underground. Members of Rusted Shut, Pain Teens, Culturcide, Future Blondes and Truth Decay join Brian and get the room sticky with what sounds like a residue extracted from ZZ Top's Afterburner outtakes, with a good dose of Flipper and Revolting Cocks thrown in. Even some Butthole Surfers covers promised! Lineup: Ralf Armin (Bass, vox), Vincent Priceless (keyboards, guitar, vox, programming), Kirston Otis (vox, samples, guitar), Webby Appleton (keyboards, guitar), Domokos Benczedi (guitar/drums). More info at myspace.com/afterpartyhouston. Songs today: Human Cannonball (Butthole Surfers) / Rock and Roll Program (Culturcide) / After Party Death Drive / Microdot / Can't Recover From Tomorrow / Aftermath / No Time / Sacrificial Shack (Pain Teens) / Goofy's Concern (Butthole Surfers) / Your Whole Life (Culturcide) / Interview / Sacrificial Shack again
1:45:41 ()
Rusted Shut
Spaceships
Dead
Load
*
2:43:29 ()
13th Floor Elevators
Stumble (Smoke the Toilet)
Sign of the 3 Eyed Men (10 CDs)
*
2:49:06 ()
The Golden Dawn
Starvation
Power Plant
International Artists
2:51:56 ()
Cold Sun
For Ever
Dark Shadows
World In Sound
2:56:42 ()
<-- Previous playlist
| Back to
Brian Turner playlists
|
Next playlist -->
RSS feeds for Brian Turner:
Playlists feed |
MP3 archives feed
| Email
the Program Director
|
Other WFMU Playlists
|
All artists played by Brian Turner
|
---
Listen on the Internet
|
Contact Us
|
Music & Programs
|
WFMU Home Page
|
Support Us
|
FAQ
Live Audio Streams:
Pop-up
|
128k AAC
|
128k MP3
|
32k MP3
|
32k Windows
---