Transpacific Sound Paradise

Saturday, March 21, 2009

Mavrothi Kontanis

Hear this show now: | Add or read comments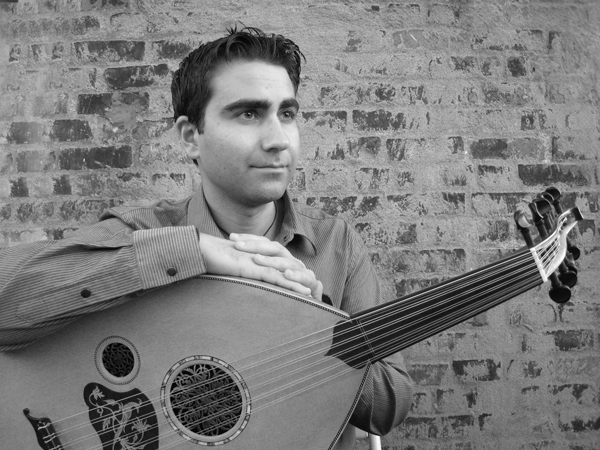 Mavrothi Kontanis is a gifted young New Jersey-based Greek-American singer, composer and oud player. Kontanis recently released two debut cds simultaneously: Sto Kafesli Sokaki, a collection of old Greek and Turkish urban songs of the early 1900's, and Wooden Heart, an exploration of traditional and contemporary oud styles from the region featuring traditional compositions as well as some Kontanis originals.

Mavrothis appears regularly at ELO restaurant (2-14 31st Ave) and Philoxenia (32-07 34th Ave) in Astoria, Queens. And he'll be performing with his ensemble Maeandros at Barbes (376 9th St. in Park Slope) on Thursday March 26 Alwan For the Arts (16 Beaver St near Battery Park) on Saturday March 28. He also teaches oud and is working on a series of oud method books. Learn more at http://www.mtkontanis-music.com/ and http://www.myspace.com/maeandros.


This Week's Playlist:
(* = new)
Mavrothi Kontanis: Arapina
/ Sto Kafesli Sokaki
Mavrothi Kontanis: Mavili
/ Sto Kafesli Sokaki
K. Noyros: Mavilim
Rosa Eskenazi: Min Orkizesai Vre Pseftra
Elefteria Avarnitaki with Ara Dinkjian: Orxhstriko a.aytoshediasmos me outi b.tamzara g.paradosia
Dalgas: Bestenigar
Mavrothi Kontanis: Manes Huzzam Dertli
/ Sto Kafesli Sokaki
Rosa Eskenazi: De Mou Les Epses To Bradu
Lampos Leontaridis: Aysem
Mavrothi Kontanis: Live in the Studio
Mavrothi Kontanis: Dhen Pao Pia Sto Galata
/ Sto Kafesli Sokaki
Lo Cor de la Plana: La Noviota
/ Tant Deman / Buda Musique
Manze Dayile: Kwi
/ Manze Dayile and the Nago Nation / MMVIII / *
Abdoulaye Diabate: Lansine
/ Sara / Completelly Nuts / *
Bela Fleck: Ah Ndiya
/ Throw Down Your Heart / Rounder / *
Featuring Oumou Sangare
Bela Fleck: D'Gary Jam
/ Throw Down Your Heart / Rounder / *
D'Gary leading, with Oumou Sangare, Richard Bona, Baaba Maal, Vusi Mahlasela, Afel Bocoum, Anania Ngoglia, Toumani Diabate and others
Ali Baran: Qurban Im
/ Teberik
Roksonaki: Leti-Pa

A Kazakh Nowruz song recorded live on WFMU. Engineer: Gil Shuster.
Niyaz: Hejran
/ Nine Heavens / Six Degrees
Acoustic Version
Culture Musical Club: Ni Yeye
/ Shime! / World Village / *
Aynur: Nemire Lawik
/ Nupel / Kalan
Rahmat Khan: Festive Music from Chardi
/ Music of Afghanistan / Rounder
UNESCO Collection reissue
Selim Sesler: The Cripple's Air...
/ Anatolian Wedding / Doublemoon
Kazem el Saher: Waledee Al Teyeb
/ The Impossible Love / Mondo Melodia
Novalima: Coba Guarango
/ Coba Coba / Cumbancha / *