Transpacific Sound Paradise

Saturday, February 14, 2009

Love is Love: A Valentine's Day Love Duel with Katie Gentile

Hear this show now: | Add or read comments


Radio ping-pong: Rob trades love-themed tracks with his sidekick Katie Gentile,
academic, author, and violinist for indie psyche-pop band The Special Pillow.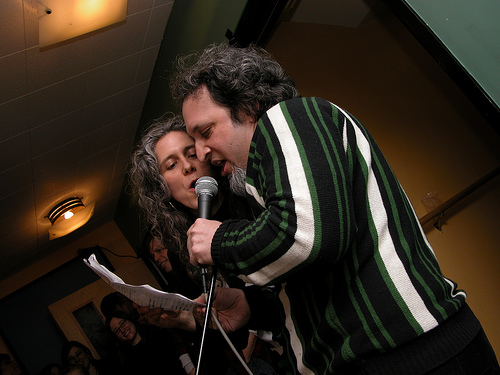 This Week's Playlist:
(* = new)
Raincoats: In Love
/ The Raincoats / DGC
The Verlaines: Crisis After Crisis
/ Juvenilia / Flying Nun
Niyaz: Ishq
/ Nine Heavens / Six Degrees
18th century Urdu love poem
Incredible String Band: First Girl I Loved
/ The 5000 Spirits or The Layers of the Onion / Elektra
Seref Tashova: Longing Threw Love on the Bier
/ Various Artists: Song Creators in Eastern Turkey / Smithsonian Folkways
The Go Betweens: Love Goes on
/ 16 Lovers Lane - Acoustic Demos / Beggar's Banquet
Donne Roberts: Malahelo
/ Rhythm Was Born / Ontario Arts Council
"I Miss You"
Oyster Band: The Oxford Girl
/ Wide Blue Yonder / Cooking Vinyl
Mbilia Bel: Kelhia
/ Bel Canto: The Best of the Genidia Years / Sterns / *
Strawbs with Sandy Denny: All I Need Is You
/ Sandy Denny and the Strawbs / Hannibal (reissue)
Najma: Zikar Hai Apna Mehfil Mehfil
/ Qareeb / Shanachie
Magnetic Fields: (Crazy for you but) Not that crazy
/ 69 Love Songs Vol. 2 / Merge
Toumast: That Girl
/ Ishumar / Real World
Doris Henderson & John Renbourn: Sally Free & Easy
/ There you go! / Folkroots Classics
Albert Kuvezin & Yat-Kha: Her Eyes Are A Blue Million Miles
/ Re-Covers / World Village
Captain Beefheart Cover
The Shoes: Do you wanna get lucky?
/ Black vinyl shoes / PVC Records
Aterciopelados: El Album
/ Gozo Poderoso / BMG
dBs: Big Brown Eyes
/ Stands for deciBels / Repercussion (CD reissue) / Collector's Choice
Sabah Habas Mustafa: Habibeh
/ Jalan Kopo / Omnium
The Someloves: know you now
/ Something or other / white label
Demi Semi Quaver: Love Maniac
/ Various Artists: Ici Tokyo / Bond Age
Deerhoof: The Tears and Music of Love
/ Offend Maggie / Kill Rock Stars
Rachid Taha: Habina
/ Rock El Casbah - The Best of Rachid Taha / Wrasse
"We Love" - originally sung by Farid el Atrache in the 1952 Egyptian film Lahn al Khouloud
Jacobites (Nikki Sudden and Dave Kusworth): Pin Your Heart to Me
/ Fortune of Fame / Glass
Abdel Gadir Salim: Qidrechinna
/ Khartoum Blues / Institut Du Monde Arabe
"I Am Destined to Love"
The Barracudas: I can't pretend
/ Drop Out With the Barracudas / GMG
Asha Bhosle and Mohammed Rafi: O Hasina Zulfonwali
/ Various Artists: Golden Voices from the Silver Screen Volume 3 / Globe Style
"Oh Beautiful One with the Gorgeous Hair" from the Bollywood Film Teesri Manzil (1966)
Belle & Sebastian: I Could Be Dreaming
/ Tiger Milk / Matador
Kiran Ahluwalia: Vo Kuch
/ Beyond Boundaries / Canada Council For The Arts
"Passion"
Pucho and his Latin Soul Brothers: Dearly Beloved
/ The Best of Pucho and his Latin Soul Brothers / Milestone
Steve Harley & Cockney Rebel: Make Me Smile (Come Up and See Me)
/ The Best Years of Our Lives / EMI
Esma: Caje Sukarije
/ Songs of a Macedonian Gypsy / Monitor
"Beautiful Girl"
Steeleye Span: Dance With Me
/ All Around My Hat / Shanachie
Alemayehu Eshete: Feqer Feqer New
/ Ethiopiques 9 / Buda Musique
"It's Really Love"
Jennifer O'Connor: Daylight out
/ Here with me / Matador
Sofia Blanco: Barubana Yagien
/ Various Artists: Umalali / Cumbancha
"Take Me Away"