Transpacific Sound Paradise

Saturday, December 13, 2008

Timbila

Hear this show now: | Add or read comments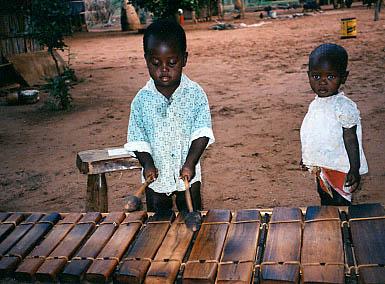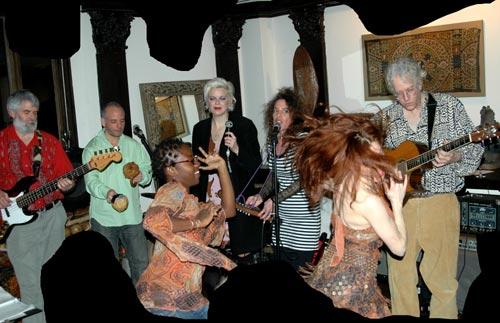 Kids in Mozambique play timbila (the instrument) (L); Timbila (the band) and dancers going at it (R).

The band on the band:
"Timbila - Afrodelic Xylophone Funk from Zimbabwe, Mozambique and the East Village! The players have studied spiritually-charged mbira (Shona thumb piano) music in Zimbabwe, and also the wild, beautiful, surreal buzzing xylophone music of Mozambique—timbila! But their own roots are mostly rock 'n roll. The grooves are deep, the sounds magical, and the vocals—in English, Shona, and Chopi—sweetly harmonized. Timbila's stage show includes choreographed moves by two of the hottest African dancers in New York—all in tune with the band's mission to make roots culture relevant to a new generation of Americans."

Timbila gig info, videos, etc: http://www.myspace.com/timbila

Some background on the timbila and other marimba / xylophone relatives is here and general b/g on Mozambique (written by Timbila's Banning Eyre) here c/o the Afropop Worldwide site.


This Week's Playlist:
(* = new)
Cem Karaca: Track 10
/ Best Of
Yossi Piamenta: Yalla Mashiach
/ Live at Makor 2004
From archive.org
Cordero: Abre La Ventana
/ De Donde Eres / Bloodshot
Aterciopelados: Gratis
/ Rio / Nacional / *
Grupo Fantasma: Se Te Mira
/ Sonidos Gold / Aire Sol
Willie Colon: Esta Navidad
/ Asalto Navideno / Fania
Canta: Hector Lavoe
Franco: Minuit Eleki Lezi
/ Francophonic / Sterns / *
New anthology
Margot Leverett and the Klezmer Mountain Boys: 2nd Avenue Square Dance
/ 2nd Avenue Square Dance / Traditional Crossroads / *
Anistar: Esh
Utla: Norske Hallinger
/ NORCD
Agostones: Ej Nap Koszonto
/ Ordogbomba / Etnofon
Sevara: Kunlarim Sensiz
/ Various Artists: Beyond the Horizon / Warner Classics & Jazz
Burkina Electric: Mdole
/ Various Artists: Beyond the Horizon / Warner Classics & Jazz / *
Natacha Atlas: La Teetab Alayi
/ Ana Hina / World Village
Kasba: Zina
/ ZigZag / SalhiSound
Asefa: Habibi

Live at the Blue Note
Dozan: Lamma Bada Yatathanna
/ Introducing Dozan / World Music Network / *
Niyaz: Feraghi - Song of Exile
/ Nine Heavens / Six Degrees
Kamkars: Dekay Ambar, Dakay Auber
/ Various Artists: Rough Guide to the Music of Iran / World Music Network
Timbila: Shumba Yangwasha

Live on WFMU
Timbila: Nhema Nysasa Yepasi

Live on WFMU
Timbila: Nile Vile

Live on WFMU
Timbila: The Trader

Live on WFMU
Timbila: I'm Gone

Live on WFMU
Timbila: Remembering the Future

Live on WFMU
Begin: Okinawan Shout
/ Various Artists: Ryukyu-Teki Aika 3 / Sony
Herman Dune: Next Year in Zion
/ Next Year in Zion / Everloving / *
Rudresh Mahanthappa: Ganesha
/ Kinsmen / Pi / *