Transpacific Sound Paradise

Saturday, November 22, 2008

New, Mixed

Hear this show now: | Add or read comments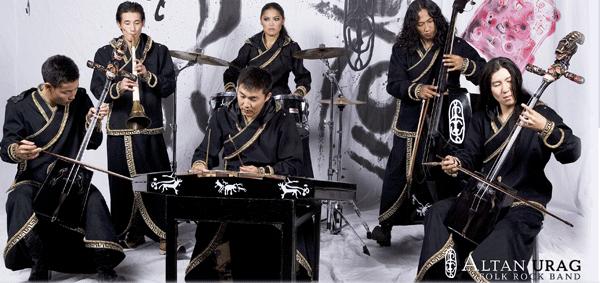 This Week's Playlist:
(* = new)
Sin Sisamouth: Track 12

Late great Cambodian singer, one of the inspirations for Dengue Fever (who played Terre T's show earlier today)
Baba Zula: Eternal is the Word of Poets
/ Roots / Doublemoon
From Istanbul, Turkey
Agostones: Ordogbomba
/ Ordogbomba / Etnofon
The Devil's Bomb. Project of Hungarian musician Bela Agoston, who sings and plays saxophone and bagpipes.
Babylon Circus: Sailor's Wife
/ Dances of Resistance
From France
Valkyrien All Stars: Hvis Jeg Var Deg
/ Valkyrien All Stars / Phantom Sound & Vision
From Norway, and coming to NYC Jan 11 for the annual world music mega-showcase Globalfest (Jan 11, Webster Hall NYC)
Watcha Clan: Goumari
/ Diaspora Hi-Fi / Piranha
From Marseille, France - playing in this year's Globalfest (Jan 11, Webster Hall NYC)
Youssou N'Dour: Baay Faal
/ Rokku Mi Rokka / Nonesuch
Youssou's Great African Ball is this Wed / Thurs at the Nokia Theatre NYC
Prince Diabate: Djerelon
/ Djrelon / Kora Company Collection
Kora Player / Band leader from Guinea via California.
Thierry Robin: Swing Wassalou
/ Alezane
Featuring Abdelkrim Sami "Diablo"
Mamak Khadem: Gelayeh
/ Jostojoo / Banyan Tree
From Iran via Southern California, where a lot of Iranian music is made
Fairuz: Heyla Ya Wasee
/ Live in San Francisco / Voix de l'Orient
Unsafe at any speed?
Terakaft: Iswegh Atay
/ Akh Issudar / World Village / *
Latest Southern Saharan guitar band to make the scene - from Mali
Abiyou Solomon: Bogge Oromo (Shewa)
/ In Search of My Roots / AIT Records / *
Ethiopian bassist who lived in US for a while, now back in Ethiopia, and has worked with many of the country's greats.
Massukos: Mudacia Wana
/ Bumping / Poo Productions
Popular band from Mozambique. Thanks to http://www.calabashmusic.com.
Samba Mapangala & Orchestre Virunga: Malako
/ African Classics / Sheer / *
New anthology
Remmy Ongala & Orchestre Super Matimila: Ndumila Kuwili
/ Nalilia Mwana / WOMAD
Don't Speak With Two Mouths / from WOMAD's anthology of selections from Ongala's East African label releases.
Aterciopelados: Dia Paranormal
/ Rio / Nacional / *
New CD from the artsy Colombian band
Manu Chao: Me Llaman Calle
/ Various Artists: Beyond the Horizon / Warner Classics & Jazz / *
Charlie Gillett comp
Los Cuatro Ases de Jarana: Jarana 1 (excerpt)
/ Vocal Duels from the Streets of Lima / Topic
The jarana is a type of improvised vocal duel performed in the back streets of Lima, Peru. This cd is a collection of previously unreleased field recordings made in the 1950s by Latin American literary historian José Durand Flórez (1925-1990). (Info from http://www.mustrad.org.uk/reviews/jarana.htm.)
Lila Downs: Ojo de Culebra
/ Shake Away / Manhattan
From Mexico via Minneapolis via NYC - this latest cd is with her "New York Band"
Nation Beat: Mare Cheia
/ Legends of the Preacher / Modiba
With the Klezmatics
Ilgi: Rita Rasa Krita
/ Kaza Kapa Debesis (A Goat Climbed to the Sky)
From Latvia
Kvarts: Halling Efter Hjalmar Fjellhammer
/ Steinsprang / Kvarts
From Norway
Kormoran: Vedelmezz
/ Folk and roll / Hungaroton / 1984
"Protect Me." From Hungary
Fairport Convention: Tam Lin
/ Liege & Lief / A&M
Much of the European neo-trad or folk rock music I played tonight owes a huge debt to Fairport, the pacesetters
Altan Urag Folk Rock Band: Shiree Nuur
/ Made in Mongolia
From Ulan Bator, Mongolia. Band name means "The Golden Family".
Ida Kelarova: Ej Hora, Hora
/ Gypsy, Moravian and Slovakian Songs / Lotos Records / 2000
From Czech Republic
Bea Palya: Nina Nenem
/ Psyche (Weores Sandor) / Gryllus
Poems of Hungarian author and poet Sandor Weores. Palya makes her solo NYC debut Jan. 30 at Carnegie Hall's Zankel Hall.
Kayhan Kalhor and Brooklyn Rider: Parvaz
/ Silent City / World Village / *
Renowned Kurdish-Iranian kamancheh player and western classical players from Brooklyn get together
Hazmat Modine: It Calls Me
/ Bahamut / Barbes
With Huun Huur Tu - they're playing together Sunday night Nov 23 at Le Poisson Rouge, NYC