The Evan "Funk" Davies Show: Playlist from November 4, 2008
Every show starts with a cut from the '70s: Rediscovering the forgotten rockers, revisiting the once-hated disco beats, replaying the power-pop favorites. Next: copious amounts of new releases and occasional live bands. Also: I'm the biggest Nick Gilder fan on WFMU.
<-- Previous playlist | Back to The Evan "Funk" Davies Show playlists | Next playlist --> |
---
November 4, 2008: EFD-cision '08!

Listen to this show: RealAudio | MP3 - 128K | | Add or read comments

When I look at this image, I imagine my bed music blasting out of the speakers...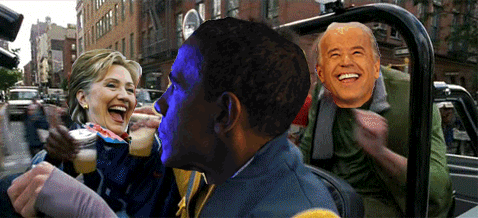 (* = new)
Artist
Track
Album
Label
Year
Comments
New
Approx. start time
david bowie
changes
hunky dory
rca / rhino
1973
0:00:00 (Real | MP3 | )
the dB's
change with the changing times
the sound of music
irs
1987
0:03:05 (Real | MP3 | )
the byrds
change is now
the notorious byrd brothers
columbia
1968
0:05:55 (Real | MP3 | )
the bellrays
change the world
have a little faith
cheap lullaby
2006
0:09:19 (Real | MP3 | )
killing joke
change
s/t
eg
1980
0:12:04 (Real | MP3 | )
john mccain
concedes
0:15:22 (Real | MP3 | )
hot chocolate
every 1's a winner (excerpt)
12"
I had the chorus of this song going in my head for most of the night... but the lyrics didn't really fit(!), so I bailed on it after a minute or so.
0:25:01 (Real | MP3 | )
dr t's soldiers
hooray for us
5,000 fingers of dr t soundtrack
0:26:15 (Real | MP3 | )
the briefs
we americans
off the charts
dirtnap
2004
0:47:44 (Real | MP3 | )
the quails
change will come
the song is love
mr lady
2003
0:49:31 (Real | MP3 | )
game theory
throwing the election
2 steps from the middle ages
enigma
1988
0:52:45 (Real | MP3 | )
president-elect (!!) barack obama
acceptance speech
0:56:44 (Real | MP3 | )
pointer sisters
yes we can can
1:12:29 (Real | MP3 | )
little richard
bama lama bama lu
1:17:58 (Real | MP3 | )
blue ash
abdracadabra (have you seen her)
no more, no less
collectors' choice
*
1:46:03 (Real | MP3 | )
lover!
i'm not a gnome
7"
tic tac totally
*
1:48:56 (Real | MP3 | )
gentleman jesse
you got me where you want me
s/t
douche master
*
1:52:58 (Real | MP3 | )
maypole
changes places
the real
gear fab
1970
a leftover from the opening set
1:55:20 (Real | MP3 | )
the herbaliser
can't help this feeling
cd single
!k7
*
2:07:27 (Real | MP3 | )
black devil disco club
with honey cream
eight oh eight
lo
*
2:11:01 (Real | MP3 | )
sparks
a big surprise
introducing
lil beethoven
*
2:16:27 (Real | MP3 | )
dan le sac vs scroobius pip
look for the woman
angles
strange famous
*
2:19:51 (Real | MP3 | )
piper
comin down off your love
can't wait
a&m
1977
2:23:11 (Real | MP3 | )
hank iv
my anger
refuge in genre
siltbreeze
*
2:35:15 (Real | MP3 | )
blank dogs
i was counting
7"
4:2:2
*
2:38:04 (Real | MP3 | )
jerry hoffman (narrator)
road to the white house: 1976
perspective 76: an aural review of the year 1976
group w
1976
2:40:42 (Real | MP3 | )
<-- Previous playlist
| Back to
The Evan "Funk" Davies Show playlists
|
Next playlist -->
RSS feeds for The Evan "Funk" Davies Show:
Playlists feed |
MP3 archives feed
|
E-mail Evan Davies
|
Other WFMU Playlists
|
All artists played by The Evan "Funk" Davies Show
|
---
Listen on the Internet
|
Contact Us
|
Music & Programs
|
WFMU Home Page
|
Blog
|
Support Us
|
FAQ
Live Audio Streams:
Flash
|
128k MP3
|
32k MP3
|
20k Real
|
20k Windows
---