Transpacific Sound Paradise

Saturday, July 5, 2008

Concert Previews + Americana

Hear this show now: | Add or read comments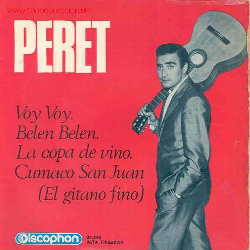 This Week's Playlist:
(* = new)
Pharaoh's Daughter: Niggun
/ Daddy's Pockets
Mali Music: Niger
/ Mali Music / Astralwerks
Goran Bregovic: Ne Siam Kurve Tuke Sijam Prostitutke
/ Karmen with a Happy End / Mercury
With the Wedding and Funeral Orchestra
Gazsa Ensemble: Slow men's dance, pillow-dance and fast csardas from Mezoseg, Transylvania
/ Music and Dances from the Carpathians / Hungaria Records
Live recordings from 2004 US tour
Slavic Soul Party: Opa Copa
/ Teknochek Collision / Barbes
Boban Markovic: Mesecina
/ Live in Belgrade / Piranha
c/o calabashmusic.com
Golem: The Rent
/ Fresh Off Boat / JDub
Nation Beat: Ver is Hot
/ Legends of the Preacher / Modiba / *
With the Klezmatics
Peret: Voy, Voy
/ Various Artists: Vaya Rumba / Music Club
Taken from perhaps the only US-distributed compliation of Rumba Catalan from Spain. The beloved Peret is one of the originators of this style; this track was originally released in 1965.
Jovino Santos Neto: Vermeio Agrest Lampiao
/ Alma do Nordeste / Adventure-Music
Sounds of Taraab: Mapenzi Matamu
/ Zanzibar, New York
Malika Zarra: Pouvoir
/ On the Ebony Road
Tcheka: Transason
/ Nu Monda / Lusafrica
Los Cenzontles: Murmullos
/ Los Cenzontles (The Mockingbirds) / Mexican Arts Center
Pistolera: Policia

Live on WFMU from Barbes May 2008
Bachelor Sound Machin: Sarna
Los Gaiteros de San Jacinto: Josefa Matia
/ Various Artists: Colombia, Esta Es Tu Musica / Sony Discos
Originally from their cd Acoplado.
Albita: Medley (Folclor Cubano)
/ Son / Times Square
Johnny Pacheco: Alto Songo
/ A Man & His Music / Fania
Juan Luis Guerra: Fogarate
/ Fogarate / Karen
Featuring Diblo
Getachew Mekurya: Shellela
/ Ethiopiques 14: Negus of Ethiopian Sax / Buda Musique
Dengue Fever: Both Sides Now
/ City of Ghosts Soundtrack / Lakeshore
Ken Boothe: Everything I Own
/ Everything I Own: The Best of Ken Boothe / Sanctuary
This version by Ken Boothe of Bread's hit reached number one on the UK singles chart for three weeks in October 1974
The Latin Souls: Blowin' in the Wind

Thanks: Pablo Yglesias, anthologist extraordinaire (Rough Guides etc)
Sparrow and Byron Lee: Try a Little Tenderness
/ Only a Fool / Jamaican Gold
Bogart Brothers: That Will Be the Day
/ Various Artists: Flying Rock / Global Village
Orchestre Super Mazembe: Words of Love
/ Kaivaska / Virgin
Banda Toro: The Night Chicago Died (El Noche Que Murio Chicago)
/ Banda Toro / Fonovisa
One of the early groups in the Mexcian banda / techno-banda boom of the early nineties.
Skandalous All-Stars: Take the Skinheads Bowling
/ Punk Steady / Shanachie
Originally by Camper Van Beethoven.
Angela Kalule: Me and Bobby McGee
/ Last King of Scotland OST / Rounder
Maloko: In the Midnight Hour
/ Soul on Fire / African Music Gallery
Led by Vincent Nguini, originally from Cameroon. He's played with Manu Dibango and others. This track features the great Syran Mbenza on guitar.
Ching-Dong Tsusinsha: Black Magic Woman
/ Osaka Style / Off Note
Haruomi Hosono: Fujiyama Mama
/ Paraiso / Alfa
YMO bassist and brilliant musical visionary. Paraiso was the third LP in his 1970s (pre-YMO) "Exotica Trilogy". There's recent a clip of Hosono performing this song here: http://www.youtube.com/watch?v=ToI3_J914po
Yat-Kha: Ramblin' Man
/ Re-Covers / World Village
Hank Williams' 1953 b-side to Take These Chains from My Heart.
Dedication Group: I Will Always Love You
/ Music Dedikasi / Gema Nada Pertiwi
Jonas Andersson: Diana
/ Lug Lae Kidteung (?) / MMG
From farsidemusic.com: "Young Swedish guy goes to Thailand and masters the quintissential Thai lukthung way of singing. Becomes a star, and is acknowledged not just as some novelty blue eyed blond haired lukthung singer, but the equal of most top Thai male singers. Strange but true." (Note from Rob W: CD title listed here may be incorrect; I have this song on an unlabeled dub.)