Brian Turner: Playlist from May 27, 2008
Order and disorder in a freeform haze of terribly-played guitars, shorted-out electronics, found audio detritus, strange sounds from strange lands all around. Psych-punk-junk, collage, even pop. Lots of in-studio live performances to boot.
<-- Previous playlist | Back to Brian Turner playlists | Next playlist -->
---
May 27, 2008: w/ live set from NEGATIVE APPROACH

Listen to this show: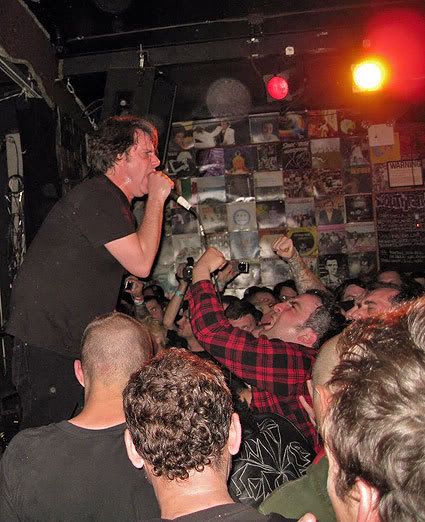 Negative Approach at Southpaw (pic Brooklyn Vegan). Video from the WFMU session here!
(* = new)


| Artist | Track | Album | Label | Year | Comments | New | Approx. start time |
| --- | --- | --- | --- | --- | --- | --- | --- |
| Chris Wilhoite | Amazing Box | Split CD w/ Gnarlybird | | | | * | 0:00:00 () |
| Reeks and the Wrecks | Mosquito Cash Diamond Gun | Knife Hits | | | | | 0:05:03 () |
| Fennesz-Jeck-Matthews | Philip Jeck Plays Charles Matthews | Amoroso 7" | | | | * | 0:08:55 () |
| Slicing Grandpa | TNT | Spirits of DOug + W | SLF | 2008 | | * | 0:17:10 () |
| Highway Robbery | Fifteen | For Love or Money | Collectables | 1972 | | | 0:20:03 () |
| Headless Chickens | Totalling Dad's Car | Stunt Clown | Flying Nun | 1988 | | | 0:23:01 () |
| Peter Hammill | Fogwalking | A Black Box | Virgin | 1980 | | | 0:25:38 () |
| Jason Krumer | Certified Blue | Ottoman Black | Hospital Productions | 2008 | | * | 0:29:38 () |
| Ancestors | Untitled | Ancestors | Northern Sky Productions | 2007 | | | 0:35:53 () |
| Seitan | Killarna | D Beat Hippie Lovers | Inget Javka Chafs | 2008 | | * | 0:37:48 () |
| Asenheim | Die Burg | Ahnenpfade | | | | | 0:41:17 () |
| Patton Oswalt | Excerpt | Frankensteins & Gumdrops: WFMU Best Show 2008 Premium | Chunklet/WFMU | 2008 | | * | 0:45:57 () |
| Randy Barracuda | Shock the Fly | Various: Museum of Future Sound Vol. 2 | Flogsta Danshall | 2008 | | * | 0:53:11 () |
| Reed, Jabs & Rowenta | 5:09 | Apoplexia 1973 | PsychForm/Jeans | 2006 | | | 0:55:08 () |
| Circle X | Prehistory Part I | Prehistory | Blue Chopsticks | 2008 | Rik Letendre of Circle X on Fabio's show this Thursday 12-3pm | * | 1:05:18 () |
| Fabulous Diamonds | B3 | Fabulous Diamonds | Siltbreeze | 2008 | | * | 1:09:56 () |
| DJ Romes | ? | 12" | White Label/Unknown | 2008 | | * | 1:12:17 () |
| Chrome | Chromosome Damage | Half Machine Lip Moves | | | | | 1:16:35 () |
| Endless Boogie | Move Back! | Focus Level | No Quarter | 2008 | | * | 1:19:56 () |
| Galawad Y Mynydd | Merch yn Eistedd ar y Bryn | Galawad Y Mynydd | | | | | 1:32:09 () |
| Red Dawn II | The Fall Guy | In Arthur's Caddy on the Way to Daddy's | | | | * | 1:34:49 () |
| The Soft Drinks | Pop Stars In Pyjamas | Outer Himalayan 7" | | | | | 1:37:37 () |
| Fang | Fun With Acid | Various: Not So Quiet On the Western Front | | | | | 1:40:09 () |
| The Transmitters | 0.5 Alive | | | | | | 1:42:07 () |
| CTR | ? | Karuizaki Attack | | | | | 1:45:15 () |
| Mob 47 | Nitlott | Dom Ljuger Igen | | | | * | 1:49:09 () |
| Clockcleaner | Ready To Fight (Negative Approach cover) | Live at Southpaw opening for Negative Approach | | | | | 1:49:33 () |
| Negative Approach | Live in the WFMU Studio | Engineered by Richard Rusinkovich | | | In 1981 Detroit's Negative Approach were on the ground floor of the American hardcore movement: peers with the Necros, Bad Brains, Black Flag and Minor Threat, all banding together and sowing seeds for the mayhem to come. Many argue that NA were among the most crazed of these bands; there was a distinct Stooges/Motor City sound soaked in along with nods to UK powerhouses like Blitz and Discharge and of course their US contemporaries. Singer John Brannon's gutteral throat-shred, however, flattened the competition hands down, In 2006 a 1/2-shifted lineup reemerged in for the Touch and Go Anniversary fest and Negative Approach proved they can still destroy. They're on Brian's show today ripping up Studio B and chatting afterwards (thanks to Tony Rettman for sitting in too). John Brannon: vox, OP Moore: drums, Harold Richardson: guitar, Ron Sakowski: bass. Songs today: Lost Cause / Can't Tell No One / Sick of Talk / Hypocrite / Dead Stop / Whatever I Do / Tied Down / Evacuate / Your Mistake / Why Be Something That You're Not / Pressure / Fair Warning / Nothing / Borstal Breakout (Sham 69) / Never Surrender (Blitz) / Solitary Confinement. UPDATE: Video of two songs up on the WFMU blog here! | | 2:07:12 () |
| Amebix | Sanctuary | No Sanctuary: The Spiderleg Recordings | | | | * | 2:32:59 () |
| Negative Approach | Interview in WFMU Studio | | | | | | 2:39:17 () |
| Negative Approach | Chaos | Ready to Fight | | | | | 2:48:11 () |
| Doom | Free Yourself | Total Doom | | | | | 2:50:05 () |
| Coffins | Deadly Sinners | Buried Death | | | | * | 2:52:12 () |
<-- Previous playlist
| Back to
Brian Turner playlists
|
Next playlist -->
RSS feeds for Brian Turner:
Playlists feed |
MP3 archives feed
| Email
the Program Director
|
Other WFMU Playlists
|
All artists played by Brian Turner
|
---
Listen on the Internet
|
Contact Us
|
Music & Programs
|
WFMU Home Page
|
Support Us
|
FAQ
Live Audio Streams:
Pop-up
|
128k AAC
|
128k MP3
|
32k MP3
|
32k Windows
---