Transpacific Sound Paradise

Saturday, April 12, 2008

Asha Bhosle

Hear this show now: | Add or read comments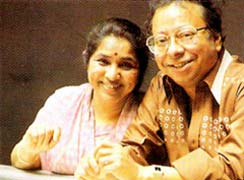 Asha Bhosle with her late husband / collaborator R. D. Burman.

Asha Bhosle recently completed a 75th birthday tour with a stop at Carnegie Hall on Thursday, April 17 and a retrospective CD 75 Years of Asha due out shortly on Times Square records.

Asha has sung for Indian films since she was ten years old. As a playback singer, she's provided the musical voice for hundreds of actors. She's recorded thousands of film songs in Hindi and many regional languages, and won scores of awards from India's film industry.

But Asha Bhosle is acclaimed as well for her versatility: She sings traditional music in her native Marathi language, Hindu devotional songs and Urdu ghazals - romantic sung poetry. Her Indian classical collaboration with Ali Akhbar Khan garnered a Grammy nomination. She's collaborated with various artists outside Indian music from Boy George to the Kronos Quartet - and even participated in an 80s UK dance-pop project with with members of Blancmange and Yazoo called West India Company.

Global Rhythm Magazine tour preview: http://www.globalrhythm.net/worldnews/AshaBhosleCelebratesHer75thYearByLookingToTheFuture.cfm.

Times Square Records: http://www.timessquarerecords.net.


This Week's Playlist:
(* = new)
Asha Bhosle: Aaj Ki Raat
/ Various Artists: Golden Voices from the Silver Screen Volume 3 / Globestyle
Originally from the film Anamika
Shujaat Husain Khan: Aashiko Ke Khoda
/ Hawa Hawa / World Village
You Have Become a God For All the Lovers of the World
Nistanimera: Ela Katu
/ Chore / Alfa Music
Chore is a collection of Ethnic Greek songs from southern Italy.
La Lionetta: Valona Nauti-Tour
/ Arzan / Folkclub Ethnosuoni
From the Piedmont region of Italy.
Goran Bregovic: Gas Gas
/ Karmen With a Happy End / Mercury
With the Wedding and Funeral Orchestra
The Junky JAP Dogs: I'm Flying
/ Various Artists: Okinawa Champloo Paradise / Teichiku
Nation Beat: A Onde Te Cerveza
/ Unreleased / Modiba / *
From their forthcoming cd
Gary Lucas and Najma: Rishte
/ Unreleased
Guests on this show April 26; NYC debut as a duo at Joe's Pub May 3.
Asha Bhosle: Jiva Laga
/ 75 Years of Asha / Times Square Records / *
New anthology - mostly old songs with a few new recordings. This is a traditional song in the Marathi language of Asha's home region, Maharashtra.
Mangeshkar Family: Marathi Folk Song
/ The Phenomenal Mangeshkars / Odeon
Asha Bhosle: Leke Pahla Phala Pyar
/ C.I.D. (Bollywood Soundtrack) / EMI
With Mohammed Rafi and Shamshad Begum
Asha Bhosle: Piya To Ab To Aaja
/ Rough Guide to Asha Bhosle / World Music Network
Originally on the Teesri Manzil Indian popular film soundtrack.
Asha Bhosle: Aaja Aaja Main Hum Pyar Tera
/ Love Supreme / Tiimes Square
Originally on the Teesri Manzil Indian popular film soundtrack.
Asha Bhosle: Yuhun Na Thi
/ Various Artists: WOMAD Talking Book Asia / WOMAD
Originally on the ghazal album Abshaar-e-Ghazal with Hariharan.
Asha Bhosle with Kronos Quartet: Dum Maro Dum
/ You've Stolen My Heart / Nonesuch
"Take another toke"
Asha Bhosle: Dum Maro Dum
/ Various Artists: Rough Guide to Bollywood / World Music Network
Originally on the soundtrack to the Indian popular film Hare Rama Hare Krishna
Asha Bhosle: Na Marte Hum
/ Aap Ki Asha / Universal
For this 2001 stand-alone (non-soundtrack) cd, Asha wrote the music herself, something she had never done before.
Asha Bhosle: Zindagi Yeh Kaisa Hai
/ Swami Dada + Hum Naujawan (Bollywood Soundtrack set) / RPG Saregama
With Amit Kumar and Kishore Kumar
West India Company: Vishnu Shlokas
/ 7" / London
Featuring Asha Bhosle
Nusrat Fateh Ali Khan: Dil Da ROg Muka Jah Mahi
/ Various Artists: Traveler 08 / Six Degrees / *
Gaudi mix, remixed by Cheb i Sabbah
Bombay Dub Orchestra: Spiral
/ Various Artists: Traveler 08 / Six Degrees / *
Chennai 5am Mix
Etran Finatawa: Kel Tamasheck
/ Desert Crossroads / *
Tamasheck = Tuareg. Etran Finatawa is on its first US tour, playing NYC Symphony Space Friday 4/18.
Think of One: Gnawa Power
/ Camping Shaabi / Crammed Discs / *
Darga: Sandiya
/ Darga