HotRod: Playlist from October 12, 2007
Shamanic vibrational love frequencies for the infinite mind. Shed all fear and allow the forces of nature to rattle your spine. We are the future. Welcome to the 5th Dimension.
<-- Previous playlist | Back to HotRod playlists | Next playlist -->
---
October 12, 2007: Weekly Web Show Premiere!!!

Listen to this show: | Add or read comments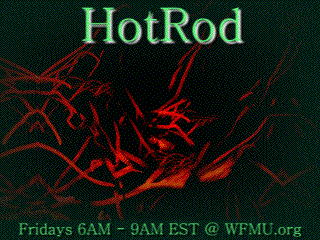 Artist
Track
Album
Label
Year
Format
Comments
Ritva Koistinen
Pavi Intervallo
The Tradition of Kantele Vol. 3: The New Era
Finlandia
1993
Joni Mitchell
Love
Travelogue
PJ Harvey
Grow Grow Grow
White Chalk
2007
Music behind DJ:
MF DOOM !!!
Special Herbs
Automated Acoustic
The Universal Proportion
Love To The Dedicated Listener
Alternative Blueprint
Scottie B & King Tutt
You Can Call Me Al
12"
Jason Forrest
New Wave Folk Austerity
Shamelessly Exciting
Rage Against The Machine
Killing In The Name Of (Sebastian Remix)
Chris & Cosey
This Is Me
Prefuse 73
Mantra Two
Aesop Rock
None Shall Pass
None Shall Pass
Def Jux
2007
Music behind DJ:
MF DOOM !!!
Special Herbs
EL-P
Up All Night
I'll Sleep When You're Dead
Daedelus
Impending Doom (featuring MF DOOM)
Exquisite Corpse
Mush
Teki Latex
Disco Dance With You (featuring Spank Rock)
Chaka Demus & Pliers
Murder She Wrote
Mavado
Top Shotta Nah Miss
Gangsta For Life: The Symphony of David Brooks
Music behind DJ:
MF DOOM !!!
Special Herbs
Murcof
Reflejo
Remembranza
2005
Modified Toy Orchestra
Black Star
UNRELEASED!!!
Grizzly Bear
Knife (Covered by CSS)
Friend
Streets 11/6 in the U.S.
Japanther
Furrs Is Gone
Yer Living Grave
Menlo Park Recordings
Killing Joke
The Death and Resurrection Show
The Need
O Sally How's It Feel With a Fake Hand
The Need Is Dead
Kyuss
1st Track
S/T
Elektra
1994
Music behind DJ:
MF DOOM !!!
Special Herbs
Bong-Ra
Necrogoat
SickSickSick
Ad Noiseam
2007
The Bug
Gun Disease (ft. Cutty Ranks)
Rephlex
2003
Vex'd
Pop Pop V.I.P.
Degenerate
David Bowie
I'm Afraid of Americans (featuring Ice Cube)
Bjork
Army of Me (Army of Klaus Remix by Patrick Wolf)
Music behind DJ:
MF DOOM !!!
Special Herbs
Jerome Miniere
Les Yeux Tout Autour de la Tete
Harry Belafonte
Day-O
Beetlejuice Soundtrack
1988
LP
Skream
Tortured Soul
Skream!
Cocteau Twins
Victorialand (Massive Attack Remix)
Height
Bad Weather
Winterize The Game
BANNER CREDIT: SERIAL KRUSHER!!!
<-- Previous playlist
| Back to
HotRod playlists
|
Next playlist -->
RSS feeds for HotRod's show:
Playlists feed |
MP3 archives feed
|
E-mail HotRod
|
Other WFMU Playlists
|
All artists played by HotRod
|
---
Listen on the Internet
|
Contact Us
|
Music & Programs
|
WFMU Home Page
|
Support Us
|
FAQ
Live Audio Streams:
Pop-up
|
128k AAC
|
128k MP3
|
32k MP3
|
32k Windows
---