Brian Turner: Playlist from September 12, 2006
Order and disorder in a freeform haze of terribly-played guitars, shorted-out electronics, found audio detritus, strange sounds from strange lands all around. Psych-punk-junk, collage, even pop. Lots of in-studio live performances to boot.
<-- Previous playlist | Back to Brian Turner playlists | Next playlist -->
---
September 12, 2006: w/ live set from TO LIVE AND SHAVE IN L.A.

Listen to this show: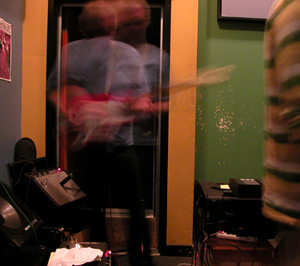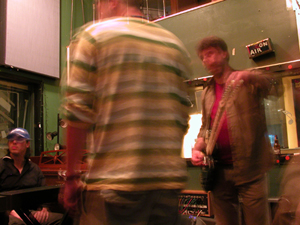 TLASILA in studio: Don Fleming (L), Andrew W.K., Tom Smith, Chris Grier (R). Pics Ben Wolcott.
(* = new)


| Artist | Track | Album | Comments | New | Approx. start time |
| --- | --- | --- | --- | --- | --- |
| The Hoax | This Is My Life | Blind Panic EP | | | 0:00:00 () |
| Angel Face | 12 1/2 | A Wild Odyssey | | | 0:02:19 () |
| England's Glory | City of Fun | Legendary Lost Recordings | | | 0:04:27 () |
| PVC-2 | Deranged Demented and Free | | | | 0:08:18 () |
| Cal Hayes | Back To School | Crud Crud | | | 0:14:00 () |
| Absolut Null Punkt | Metacompound C | Metacompound | | * | 0:17:10 () |
| Diseno Corbusier | Meta Matalic | Perfido Encanto | | | 0:28:22 () |
| Silentist | Nightingales | Nightingales EP | | | 0:29:52 () |
| Lubomyr Melnyk | It Was Revealed Unto Us | The Music of Lubomyr Melnyk | | * | 0:34:14 () |
| Mike Boo | Curdled | Dunhill Drone Committee | | * | 0:49:01 () |
| Joan of Ass | I'm No Fake | 10" | | | 0:52:00 () |
| Culturcide | Industrial Band | Tacky Souvenirs of Pre-Industrial America | | | |
| Sparks | Everybody's Stupid | Big Beat | | | 0:57:48 () |
| Pappo's Blues | El Tren De Las 16 | 2 | | | 1:03:40 () |
| Lake of Dracula | Four Teachers | Skeletal Remains | | * | 1:04:25 () |
| Afrirampo | I Can't Let You Go Home | Urusa in Japan | | | 1:07:34 () |
| Boris | Vacuum | Live 96-98 | | | 1:10:14 () |
| Pestrepeller | No Screeches and Snakes and Deep Dark Menaces | Isle of Dark Magick | | * | 1:19:00 () |
| Rolf Lundqvist & Arbete a Fritid | Dikter / Getlaten | Slottsbergets Hambo a Andra Valser | | | 1:22:58 () |
| Kostas Tournas | I Mihani Tou Chronou | Astronira | | | 1:28:12 () |
| Dee Dee Warwick | You're No Good | Various: Mama's Got a Bag of Her Own | | * | 1:30:51 () |
| Raoul Zequeira y Sus Habaneros | Hey! Hey! Hey! Si Senor | Various: Jazz Bizniz 3 | | * | 1:33:55 () |
| Yoav Gal & Yael Kanarek | Yours Forever | Bit By Bit, Cell By Cell | | * | 1:45:07 () |
| Electrelane | The Valleys | The Power Out | | | 1:52:12 () |
| To Live and Shave In L.A. | Live in the WFMU Studio | Engineered by Gil Shuster | Two years later, the insanity that was TLASILA's last session on Brian's show returns. On tour to preview a forthcoming release ("Noon and Eternity" on Menlo Park Records), the long-enduring Noise/Concrete/Freedom Rock/Destructo-Dub/ELP-covering/Crazy Frog-loving crew piles all their oscillators, giant amp stacks, and assorted debris into the WFMU live room and crack it open once more. The band this time out: Tom Smith: Vocal, Graham Moore: Laptop and Treatments, Ben Wolcott: Oscillator, Andrew W.K.: Keyboard, Rat Bastard: Electronics, Radio, Quad Mixer, Chris Grier: Guitar, and Don Fleming: Guitar. Someone on TLASILA's blog mentioned their end of tour sound as the Walker Brothers meets Hermann Nitsch and Penguin Cafe Orchestra, and they aren't that far away from the truth here. It's gonna melt your brains. Songs today: No Such Luck / Authorized / Mothers Over Silverpoint / I Prefer Pestilence / Sampson Scolded Delilah. | | 2:03:09 () |
| To Live And Shave In L.A. | 1673 | Horoscopo: Sanatorio De Mollere | | * | 2:38:35 () |
| Crazy Frog | NPR Report | | | | 2:45:26 () |
| Cirith Ungol | Frost and Fire | Demo | | | 2:52:09 () |
| Dr. Heavy | Demo | CDR | | | 2:55:56 () |
<-- Previous playlist
| Back to
Brian Turner playlists
|
Next playlist -->
RSS feeds for Brian Turner:
Playlists feed |
MP3 archives feed
| Email
the Program Director
|
Other WFMU Playlists
|
All artists played by Brian Turner
|
---
Listen on the Internet
|
Contact Us
|
Music & Programs
|
WFMU Home Page
|
Support Us
|
FAQ
Live Audio Streams:
Pop-up
|
128k AAC
|
128k MP3
|
32k MP3
|
32k Windows
---