Order and disorder in a freeform haze of terribly-played guitars, shorted-out electronics, found audio detritus, strange sounds from strange lands all around. Psych-punk-junk, collage, even pop. Lots of in-studio live performances to boot.
November 1, 2005: w/ live set from THE MAGIK MARKERS

Listen to this show: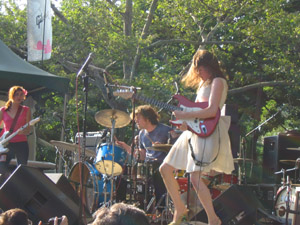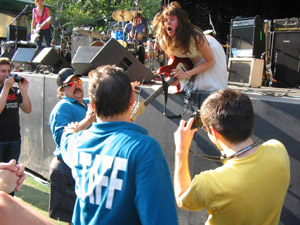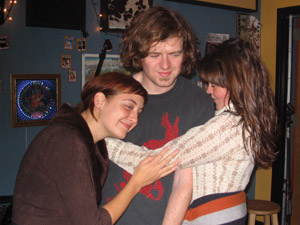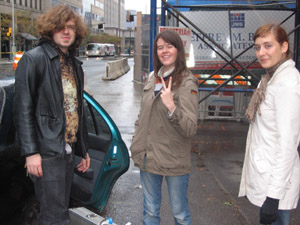 Pics 1 &2: Opening for Dinosaur Jr. in Central Park this past July, pics 3 & 4: Peace and harmony at WFMU (photos: BT).
Artist
Track
Album
Comments
New
Approx. start time
Death Comes Along
Psychedelic Inferno
Psychedelic Inferno
*
Tada Masami
Sound Encounter pt 1
Sound Encounter
*
Dracula, Dirty Old Man
Excerpt
0:21:13 ()
Irr. App. (ext.)
Knowing Me Knowing You
Various: Masters of the Scene
0:31:45 ()
Terry Reid
Bang, Bang (My Baby Shot Me Down)
Bang, Bang (You're Terry Reid)
*
0:37:37 ()
DMBQ
Turtledove
Hercules Hits
See them: Live at the Record Fair this Saturday at 2!
0:43:35 ()
The Wildhearts
Wild Zero
Various: I Love Guitar Wolf Very Much
*
0:47:12 ()
As Mercenarias
Labirintos
O Comeco Do Fim Do Mundo
*
0:50:52 ()
Traveller's Lodge Atomic 8
Ikut Asana Edem
Various: Lagos All Routes
*
0:53:16 ()
I-Wolf + Burdy (w/MC Santana & Ines)
Innercity Pressure
I-Wolf & Burdy Meet the Babylonians
0:55:51 ()
Greg Davis & Sebastian Roux
Daybreak
Paquet Surpsi
*
0:59:41 ()
Klimek
Snowfall
Listen, the Snow Is Falling
*
1:06:05 ()
Permutative Distortion
Wettlauf Gegen Die Zeit
Various: Wahrnemungen 1980/81
*
1:08:58 ()
Mark Perry
Snappy Turns
Snappy Turns
1:10:51 ()
Ghetto Reality
James Brown
Ghetto Reality
1:14:21 ()
The Ex
Long Live the Aged
Singles. Period.
*
1:17:06 ()
Last Exit
Last Call
Koln
*
1:20:54 ()
Six Organs of Admittance
Words For Two
Ben Chasny solo here on the show 7/24/05
1:34:13 ()
21.Peron
Anne
21.Peron
*
1:35:40 ()
Sun City Girls
You WIll Take Their Phlegm
Folk Songs of the Rich and Evil / Exotica On $5 a Day
1:43:34 ()
Groupe Inarane
Excerpt
Niger: Magic & Ecstasy in the Sahel (DVD)
1:51:12 ()
Magik Markers
Live in the WFMU Studios
Engineered by Gil Shuster
Click here and here to see the band performing in the WFMU live room (avi files for download) and click here for a mov file of the band performing in Massachusettes via the Ecstatic Peace website.

With broad strokes of No Wave and classic hardcore sensibilities, the Magik Markers have often been saddled with comparsions to Teenage Jesus and especially Red Transistor, though in their five year wake of trashed drumkits and broken guitars they've done equal amounts of introspective sound explorations as well. Live, Pete Nolan (drums), Leah Quimby (guitar) and Elisa Ambrogio (guitar, vocal) totally spraypaint the walls; if you are missing the adrenaline-to-the-heart shock of live Harry Pussy, Minor Threat and primo Black Flag (Elisa is way more Keith Morris than Lydia Lunch), or worship the meltdown guitar rumbling and off-balance wooziness of the Dead C circa "Harsh 70's Reality" this may very well be your new fave action trio. Video clips on the playlist page to follow! www.ecstaticpeace.com (their LP "I Trust My Guitar, etc. out of print right now), apostasyrecordings.com, magikmarkers.com
2:01:49 ()
Void
Ask them Why
Faith/Void split
2:52:24 ()
Black Flag
Police Story
1st 4 Years
2:52:36 ()
Black Time
Catholic Discipline
Black Time
2:55:05 ()
Oil Tasters
(I Don't Want To Be An) Encyclopedia Salesman
Oil Tasters
*
2:56:44 ()