Brian Turner: Playlist from September 27, 2005
Order and disorder in a freeform haze of terribly-played guitars, shorted-out electronics, found audio detritus, strange sounds from strange lands all around. Psych-punk-junk, collage, even pop. Lots of in-studio live performances to boot.
<-- Previous playlist | Back to Brian Turner playlists | Next playlist -->
---
September 27, 2005: w/ live set from CIRCLE

Listen to this show: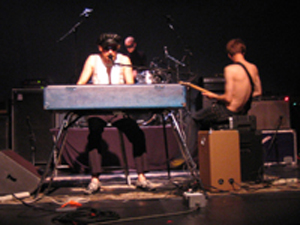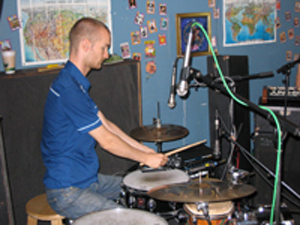 From top: Circle live at Arthurfest in LA (pic Ned Raggett), Mika, Jussi, Janne in WFMU studios, Tomi in WFMU studio, Jussi receives the gift of Blackfoot and Ozark Mountain Daredevils LPs from BT, says: "These are real men."
(* = new)


| Artist | Track | Album | Comments | New | Approx. start time |
| --- | --- | --- | --- | --- | --- |
| Jimmy Campbell | Half Baked | Half Baked | | | |
| Hrsta | And We Climb | Stem Stem In Electro | | * | |
| Gary Higgins | Thicker Than a Smokey | Live here on the show, 7/24/05, engineer: Gil Shuster | | | 0:10:42 () |
| Tarantula A.D. | France Atlantic | Atlantic | | * | 0:17:55 () |
| Johnny Boy | You Are the Generation That Bought More Shoes | You Are the Generation That Bought More Shoes | | * | 0:18:35 () |
| Persons | People Like Us Are Black Holes | Unreleased stuff | | | 0:20:40 () |
| Impetigo | Stoopid Nazi's Take a Hike | | | | 0:25:38 () |
| Stiffs Inc. | Work Work Work | 7" | | | 0:26:24 () |
| Doom | Confusion | Total Doom | | | 0:28:41 () |
| Haze | Peaceful Nonsense | Hazecolor-Dia | | | 0:31:31 () |
| Las Malas Amistades | Gripa Tropical | Jardin Interior | | * | 0:45:11 () |
| Velvet Underground | I Can't Stand It | The Psychopath's Rolling Stones | | | 0:47:45 () |
| Kazuki Tomokawa | 2 | Hitori Bon-Odoli | | | 0:55:47 () |
| Circle | Live in the WFMU Studios | Engineered by OCDJ and Tuomas Laurila | Circle emerged from Pori, Finland in 1991 and continued to defy categorization; just when they get pegged as prog-leaning space-rockers, they then throw down an LP of minimalist metal with a guy doing complete Rob Halford vocal wailing, a sound they can swing to as easily as they lock into sinsiter Kraut grooves or explore glacial electronic soundscapes. They put in a rare US radio performance on Brian's show today on the tail end of a coast-to-coast US tour that left jaws on the floor and Jussi's Leviathan T-shirt ripped to pieces. More info at www.circlefinland.com, also check out Jussi's Ektro label (www.ektrorecords.com) for more fine Finnish sounds (including the band's new album Tulikoira). Jussi Lehtisalo: Bass, vocal, Tomi Leppanen: Drums, DS-8 Drum Synth, Mika Ratto: Main vocal, keyboard, Janne Westerlund: Guitar, vocal, Tuomas Laurila: engineering plus background tapes. Thanks to Circle, OCDJ, and a big thanks to Urdog (and their dog) for transportation. | | 1:08:57 () |
| Phil Lynott | Talk In 79 | Solo In Soho | | | |
| The Hospitals | Moving/Shaking | I've Visited the Island of Jocks and Jazz | | * | |
| Blurt | Trees | Blurt | | | |
| Aufgehoben | Doxa Caveat | Anno Fauve | | | |
| Wayne Rogers | Waterside | Blues-Ul Alb | | * | |
| Thomas Hamilton | Pieces For Kohn #4 | Pieces for Kohn | | * | |
| James Plotkin | Kurtlanmak | Kurtlanmak | | * | |
| Die Egozentrischen Zwei | Excerpt | Der Aufstand Der Chemiker | | | |
| Lavender Diamond | You Broke My Heart | The Cavalry of Light | | * | |
| Hobart Smith | Banging Breakdown | In Sacred Trust | | * | |
<-- Previous playlist
| Back to
Brian Turner playlists
|
Next playlist -->
RSS feeds for Brian Turner:
Playlists feed |
MP3 archives feed
| Email
the Program Director
|
Other WFMU Playlists
|
All artists played by Brian Turner
|
---
Listen on the Internet
|
Contact Us
|
Music & Programs
|
WFMU Home Page
|
Support Us
|
FAQ
Live Audio Streams:
Pop-up
|
128k AAC
|
128k MP3
|
32k MP3
|
32k Windows
---