Mike L.: Playlist from July 22, 2005
Freeform radio with a predilection for planet shattering beats, rumbling guitars, bit mappy electronics, hash hazy strumming, and other related sonics for cultured and urbane criminal types. Please direct all complaints to the attention of our North Bergen office.
<-- Previous playlist | Back to Mike L. playlists | Next playlist --> |
---
July 22, 2005: Eminence Brunt

Listen to this show: RealAudio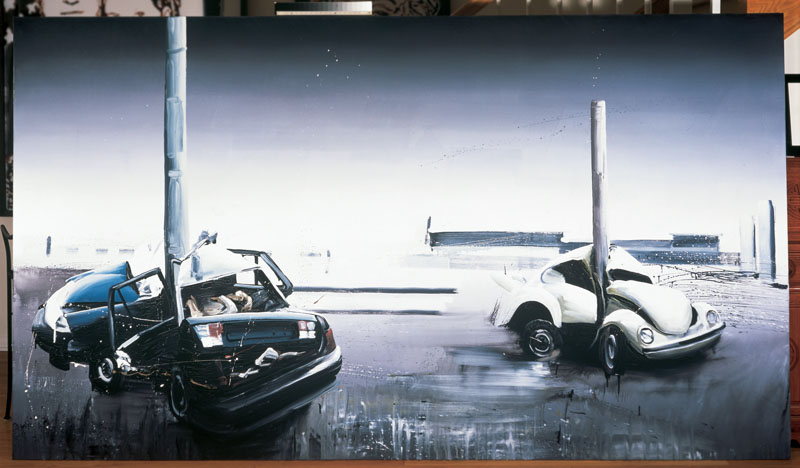 It Rocks Us So Hard Ho Ho Ho 2
was painted in 2002 by Dirk Skreber. More information can be found
here
. (* = new)
Artist
Track
Album
Comments
New
Approx. start time
Meatballs
0:00:00 Real)
The Pink Fairies
Do It!
Do It!
0:03:28 Real)
The Ex
Frenzy
Starters/Alternators
0:06:21 Real)
Oddattee
Rican
MP3
0:11:21 Real)
Chairman of the Board
Men are Getting Scarce
The Kings of Hip Hop: Compiled & Mixed by DJ Premier and Mr. Thing
0:15:06 Real)
DJ Yoda
Annie Mac Mini Mix
MP3
*
0:21:32 Real)
Captain Beefheart & the Magic Band
Tropical Hot Dog Night
Shiny Beast
0:26:30 Real)
Tarot Bolero
Lovers Lane
Vaudeville Rising
0:35:25 Real)
Rosko
Peacemaker
La Guepe Vol. 4
compilation
0:39:36 Real)
Bullet Lavolta
Mother Messiah
The Gun Didn't Know I was Loaded
0:43:03 Real)
The Silver Apples
Fractal Flow
7"
0:46:19 Real)
The (Ex) Cat Heads
Too Little, Too Late
Our Frisco
Re-issue
*
0:49:47 Real)
Jeffrey Lee Pierce
From Temptation to You
Wildweed
0:53:20 Real)
Technoanimal
Demonoid
12"
0:58:19 Real)
The VSS
Nervous Circuits
Nervous Circuits
1:02:47 Real)
Secondo
We Got It 303
Microsolutions to Megaproblems
compilation
*
1:15:28 Real)
Sole
Salt on Everything
Selling Live Water
1:18:08 Real)
Kid 606
Spanish Song
Resilience
*
1:21:13 Real)
The MC5
Shakin' Street
Back in the USA
1:26:16 Real)
The Girl Hunt Ballet
1:28:32 Real)
Girls Against Boys
X
Nineties vs. Eighties EP
1:40:15 Real)
Major Stars
Black Road
7"
1:44:04 Real)
Seu Jorge
Carolina
Carolina
*
1:53:04 Real)
Lydia Lunch with the Anubian Lights
Potango Tango
Champagne, Cocaine, and Nicotine Stains
1:58:44 Real)
Ministry
Stigmata
The Land of Rape and Honey
2:01:26 Real)
Earthless
Sonic Prayer
With Hot Snakes & Nebula dudes.
*
2:07:07 Real)
Jonathan Richman
I Was Dancing in the Lesbian Bar
I, Jonathan
2:31:41 Real)
Pearls Before Swine
Uncle John
The Complete ESP-Disk Recordings
Comprising the "One Nation Underground" and "Balaklava" LPs.
2:35:13 Real)
Odd Nosdam
Small Mr. Man Pants
Burner
*
2:38:05 Real)
Silkworm
Inside Outside
7"
In memory of Silkworm drummer Michael Dahlquist.
2:42:40 Real)
Emotional Joystick
Blues for Ben
Plays!
*
2:47:06 Real)
Music behind DJ:
ohW ehT
tnorF ecnenimE
2:51:31 Real)
Dave the Spazz coaxes a station ID from King Coleman
2:58:19 Real)
<-- Previous playlist
| Back to
Mike L. playlists
|
Next playlist -->
RSS feeds for Mike L.'s show:
Playlists feed |
MP3 archives feed
|
E-mail Mike L.
|
Other WFMU Playlists
|
All artists played by Mike L.
|
---
Listen on the Internet
|
Contact Us
|
Music & Programs
|
WFMU Home Page
|
Blog
|
Support Us
|
FAQ
Live Audio Streams:
Flash
|
128k MP3
|
32k MP3
|
20k Real
|
20k Windows
---