Brian Turner: Playlist from July 5, 2005
Order and disorder in a freeform haze of terribly-played guitars, shorted-out electronics, found audio detritus, strange sounds from strange lands all around. Psych-punk-junk, collage, even pop. Lots of in-studio live performances to boot.
<-- Previous playlist | Back to Brian Turner playlists | Next playlist -->
---
July 5, 2005: w/ live set from COMETS ON FIRE
First time ever! Click here to download an AVI file and watch the studio rock, well, for a minute at least.

Listen to this show: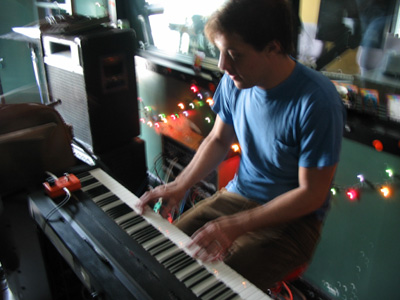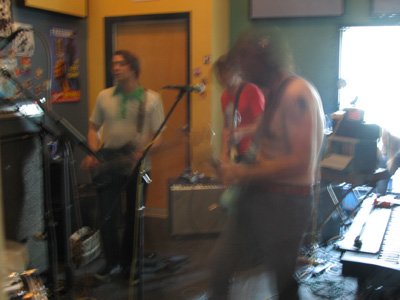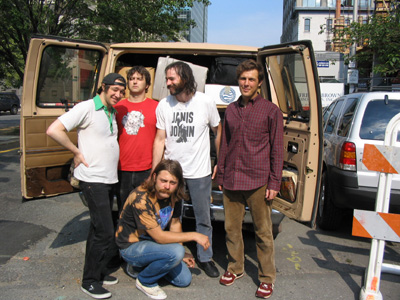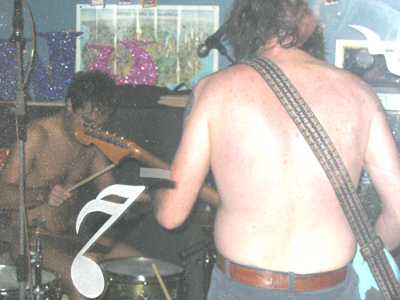 Bottom pic is proof. We must fix the air conditioning.
(* = new)


| Artist | Track | Album | Comments | New | Approx. start time |
| --- | --- | --- | --- | --- | --- |
| No Doctors | Future Awaken Awiden | ERP Saints EP | | | |
| Henry Jacobs | Dean Marlon Group Demonstration | The Wide Weird World of Henry Jacobs | | * | 0:12:44 () |
| Girth | Discreet Rendezvous | Living In Truth | | * | 0:16:52 () |
| Tomorrow's Friend | Banging Everything In Sight | Area 51 | | * | 0:22:40 () |
| Suprahorn | Lua Chen See | Various: Thai Beat A Gogo 3 | | * | 0:27:57 () |
| Long Blondes | Autonomy Boy | EP | | * | 0:29:33 () |
| Lefty Dizz | We're Gonna Boogie | Various: We're Gonna Boogie: Raw 60s' Downtown Blues | | | 0:32:51 () |
| Afrirampo | Hadaka | Kore Ga Mayaku Da | | * | 0:37:43 () |
| Monolake | Digitalis | Polygon Cities | | * | 0:46:55 () |
| Tyree | Acid Crash | Various: Can You Jack? | | * | 0:53:00 () |
| The Stereo Shoestring | On the Road South | Various: Texas Psych | | | 0:58:47 () |
| Pep Laguarda & Tapineria | Milanta Anys Llum Blues | Brossa d'Ahir | | | 1:00:05 () |
| Juri Camisasca | Un Galantuomo | La Finestra Dentro | | | 1:02:57 () |
| Menstruation Sisters | Rwanda | New 7" | | * | 1:07:17 () |
| Thomas Hamilton | #1 | Pieces For Kohn | | | 1:17:37 () |
| Encre | Seves | Flux | | * | 1:18:32 () |
| Keiji Haino + Coil | Suzie Q | live | | | 1:22:11 () |
| Comets On Fire | Live in the WFMU Studios | Engineered by Gil Shuster | In July 2003, these guysfirst blew in to Brian's show from California and torched the joint with a molten brew of Chrome, Keith Moon, Hawkwind and Detroit rock; in fact it was such a monster psych jam that the biggest Head of them all, Julian Cope, even bootlegged the session and put it out on his own label. What more do you want? Since then, Comets On Fire have put out an amazing Sub Pop LP called "Blue Cathedral", toured the world, and even learned to ease back and choogle down while still delivering nothing short of a total ROCK meltdown. We are totally psyched to have them back today for another round of shreddage. Ben Chasny: Guitar, Ethan Miller: guitar, vox, Utrillo Kushner: Drums, keyboard, nudity, sweaty drumstool, Noel Von Harmonson: Oscillator, Ben Flashman: Bass. There's all kinds of goodness on their site: www.cometsonfire.com. Thanks to the band for truckin' in the heat, to Susan from Sub Pop, especially Gil for makin' the sound sweet. | | 1:34:23 () |
| Gary Higgins | It Didn't Take Too Long | Red Hash | Upcoming on 7/26 here on the show, live with Ben Chasny | | 2:29:17 () |
| Zunou Keisatsu | Wrapped In Sadness | Various: Janitor From Mars presents Anthology of Japanese New Folk 1960-76 | | * | 2:26:05 () |
| Smash | (I Want To Be 7 Minutes) Sitting On the Truth | Todas Sus Grabaciones | | | 2:30:39 () |
| This Heat | SPQR | Deceit | | | 2:39:54 () |
| Rollerball | Jack To Jac | Catholic Paws/Catholic Pause | | | 2:43:21 () |
| White Mice | Mouse Trap | ASSPhIXXXEATESHUN | | * | 2:48:31 () |
| Jason Forrest | Lady Fantasy | Lady Fantasy | | * | 2:49:31 () |
| Andy Votel | Excerpt | Songs In the Key of Death | | * | 2:52:21 () |
<-- Previous playlist
| Back to
Brian Turner playlists
|
Next playlist -->
RSS feeds for Brian Turner:
Playlists feed |
MP3 archives feed
| Email
the Program Director
|
Other WFMU Playlists
|
All artists played by Brian Turner
|
---
Listen on the Internet
|
Contact Us
|
Music & Programs
|
WFMU Home Page
|
Support Us
|
FAQ
Live Audio Streams:
Pop-up
|
128k AAC
|
128k MP3
|
32k MP3
|
32k Windows
---