Mike L.: Playlist from March 5, 2005
Freeform radio with a predilection for planet shattering beats, rumbling guitars, bit mappy electronics, hash hazy strumming, and other related sonics for cultured and urbane criminal types. Please direct all complaints to the attention of our North Bergen office.
<-- Previous playlist | Back to Mike L. playlists | Next playlist --> |
---
March 5, 2005: Inferior Presbyterian Doorknob

Listen to this show: RealAudio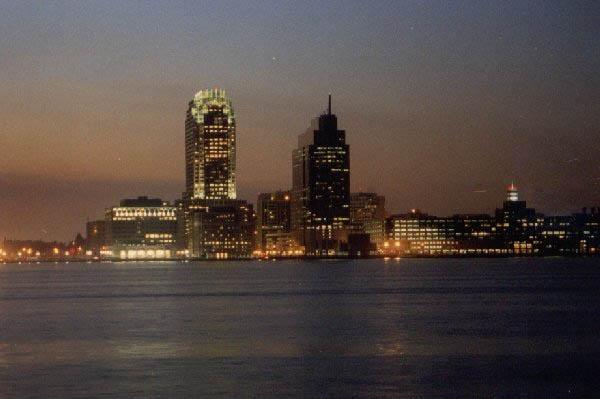 (* = new)
Artist
Track
Album
Comments
New
Approx. start time
WFMU sits quietly in the shadows of the Jersey City waterfront, awaiting your pledges during our 2005 fundraising marathon. I hope I can count on you, dear archive listeners, to make a show of financial love in realtime during my shows on March 12th and 19th. I'll be giving away tons of incredible CDs and prizes during my programs, and your donation will help ensure that Freeform radio gets done up right and tasty for yet another year! I hope to hear from you! --Mike
Helios Creed
Monster Lust
Superior Catholic Finger
Michael Mayer
Privat
Touch
*
0:05:37 Real)
Captain Sensible
I'm a Spider
The Power of Love
0:11:23 Real)
Busdriver
Wormholes
Fear of a Black Tangent
*
0:15:32 Real)
Swell Maps
Blam!!
MP3
0:20:01 Real)
Morgen
Welcome to the Void
Morgen
Re-issue, 1969
*
0:23:32 Real)
Noakes Pressure
Rhyme More
Split CD w/ DLF
*
0:33:26 Real)
Kraftwerk
Trans-Europe Express
Trans-Europe Express
0:38:29 Real)
Lady Sovereign
Random
MP3
*
0:44:59 Real)
Dickies
Out of Sight, Out of Mind
Stukas Over Disneyland
Re-issue, 1983
0:47:45 Real)
Johnny Blaze
Spongebob!
DJ Technics Presents Culbtrack V 1.0
compilation
*
0:50:00 Real)
Joan Jett
Doin' Alright with the Boys
Bad Reputation
0:54:13 Real)
Heino
Blau Bluht der Enzian
7"
1:07:39 Real)
Fred Lane
I Talk to my Haircut
From the one that Cut You
1:11:40 Real)
Betty Wright
Sweet Wonder
Hard to Stop
Re-issue, 1973
*
1:15:10 Real)
Equipe 84
Senza Senso
7"
1:17:26 Real)
Mandog
Eno's Tank Walks
Big Wednesday
*
1:20:31 Real)
The West Coast Pop Art Experimental Band
Smell of Incense
MP3
1:23:20 Real)
Jedi Mind Tricks (featuring Killah Priest)
Saviorself
12"
*
1:29:02 Real)
Dykehouse
Burden of Proof
Midrange
*
1:33:23 Real)
Masha Qrella
Unsolved Remained
Unsolved Remained
1:47:09 Real)
The Paris Sisters
See That Boy
The Paris Sisters Sing Everything Under the Sun
1:52:17 Real)
Senator Everett McKinley
Wild Thing
MP3
1:54:40 Real)
Junior Murvin
Tedious
7"
1:57:21 Real)
Tsehaytu Beraki
Lale Bola
Selam 2xCD
*
2:01:10 Real)
Iron & Wine
Naked as We Came
Our Endless Numbered Days
2:06:22 Real)
Boom Bip
Eyelashings
Blue Eyed in the Red Room
*
2:08:48 Real)
Sole
On Martyrdom
Live from Rome
*
2:15:05 Real)
Television Personalities
I Hope He's Everything You Wanted Me To Be
MP3
*
2:27:11 Real)
Scritti Politti
Confidence
Early
Compilation of early flibbidy flab fub
*
2:29:29 Real)
Jeffrey Lee Pierce
From Temptation to You
Wildweed
2:32:40 Real)
Piano Magic
The Journal of a Disappointed Man
Open Cast Heart
*
2:37:35 Real)
Yusef Lateef
(I Don't Stand) A Ghost of a Chance With You
The Golden Flute
Re-issue, 1996
*
2:42:10 Real)
Marlene Dietrich
No Love, No Nothin'
Marlene Dietrich at the Cafe de Paris
2:46:12 Real)
Rattlesnake Cooper
Rattlesnake Blues
Texas Country Blues
compilation
2:49:04 Real)
Flipper
The Way of the World
Generic
2:52:10 Real)
Music behind DJ:
Martin Denny
Island of Dreams
Exotica Volume II
Adios, Martin.
2:56:30 Real)
<-- Previous playlist
| Back to
Mike L. playlists
|
Next playlist -->
RSS feeds for Mike L.'s show:
Playlists feed |
MP3 archives feed
|
E-mail Mike L.
|
Other WFMU Playlists
|
All artists played by Mike L.
|
---
Listen on the Internet
|
Contact Us
|
Music & Programs
|
WFMU Home Page
|
Blog
|
Support Us
|
FAQ
Live Audio Streams:
Flash
|
128k MP3
|
32k MP3
|
20k Real
|
20k Windows
---