Mike L.: Playlist from March 2, 2004
Freeform radio with a predilection for planet shattering beats, rumbling guitars, bit mappy electronics, hash hazy strumming, and other related sonics for cultured and urbane criminal types. Please direct all complaints to the attention of our North Bergen office.
<-- Previous playlist | Back to Mike L. playlists | Next playlist --> |
---
March 2, 2004: ...babble...babble...babble...

Listen to this show: RealAudio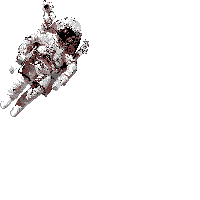 (* = new)
Artist
Track
Album
Comments
New
Approx. start time
The Opus
Isis
Breathing Lessons
*
0:00:00 Real)
Einsturzende Neubauten
Morning Dew
0:06:05 Real)
Sluta Leta
Whispers Special
Semi Peterson
*
0:11:01 Real)
Guitar Vader
Satisfy (Kidkut Remix)
Dawn
*
0:16:07 Real)
The Numbers Band
Animal Speaks
Jimmy Bell's Still in Town
re-issue -- originally from 1976
*
0:19:17 Real)
Little Richard
Function at the Junction
Get Down with It
The Okeh Sessions
*
0:23:12 Real)
The Beasts of Bourbon
Drop Out
The Axeman's Jazz
0:25:35 Real)
The Nomads
Another Man's Cross
Big Sound 2000
0:28:35 Real)
The Volcano Suns
Jak
The Bright Orange Years
0:39:49 Real)
Air
Alpha Beta Gaga
Talkie Walkie
*
0:41:59 Real)
The Dicks
Anti-Klan Part 2
1980-1986
retrospective
0:46:35 Real)
Big Brother & the Holding Company
By Bye Baby
Big Brother & the Holding Company
0:49:42 Real)
Ragni, Rado, Macdermot
I Dig
DisinHAIRited
soundtrack
0:52:15 Real)
People Like Us
Arkinsas Explorer
A Fistful of Knuckles
0:53:54 Real)
Mac Davis
One Hell of a Woman
MP3
0:56:44 Real)
Old Time Relijun
Vampire Victim
Lost Light
*
0:59:38 Real)
cLOUDDEAD
Rifle Eyes
Ten
*
1:02:05 Real)
The Twinkeyz
Aliens in Our Midst
Aliens in Our Midst
1:15:32 Real)
The West Coast Pop Art Experimental Band
Smell of Incense
Nuggets: Hallucinations -- Psychedelic Pop from the WEA Vaults
compilation
*
1:18:26 Real)
Jennifer Gentle
Husbands
I Am You Are
1:24:16 Real)
Turn me on Dead Man
Killer Sound Waves from Space
God Bless the Electric Freak
*
1:27:02 Real)
Queen Latifah & Monie Love
Ladies First
12"
1:33:24 Real)
Luomo
Tessio
MP3
*
1:37:12 Real)
Sonic Youth
Psycho Mafia
4 Tunna Brix EP
Fall cover
1:43:23 Real)
The Fall
Hands up Billy
The Unutterable
1:45:37 Real)
The Lost Kids
Alive in the Snow
Belle Isle is on Fire EP
1:48:22 Real)
Petty Booka
Let's Talk Dirty in Hawaiian
Japan Girls Night
compilation
*
2:01:59 Real)
Moviola
The Ghost of Daniel Boone
East of Anger
*
2:04:45 Real)
Waylon Jennings
Lonesome, On'ry, & Mean
Waylon Live! 2xCD
*
2:09:00 Real)
Dusty Springfield
Son of a Preacher Man
slightly altered MP3
Okay, VERY altered.
2:12:25 Real)
Vitapup
Staple in the Sun
An Hour With Vitapup
2:15:29 Real)
Live Skull
Circular Saw
Positraction
2:21:05 Real)
Really Red
I Refuse to Sing
Really Red
discography CD (2nd or 3rd time this has been reissued...)
*
2:23:03 Real)
Camutao
Hold the Floor
12"
2:25:41 Real)
Pyrolator
Minimal Tape 3/72
Synthesizer
2:29:16 Real)
Stereolab
Margerine Melodie
Margerine Eclipse
*
2:33:39 Real)
Criterion
Safe
Wet Pain EP
*
2:39:38 Real)
The Embarrassment
Sexy Singer Girl
HeyDay 2xCD
2:43:08 Real)
The Telefones
She's in Love with the Rolling Stones
Bloodstains Across Texas
compilation
2:45:18 Real)
The Rollettes
We Love You Rollers
Satin Dustbin
compilation
*
2:48:15 Real)
Bluetip
Polymer
Polymer
2:50:49 Real)
Rare Earth
Hey Big Brother
MP3
2:55:04 Real)
<-- Previous playlist
| Back to
Mike L. playlists
|
Next playlist -->
RSS feeds for Mike L.'s show:
Playlists feed |
MP3 archives feed
|
E-mail Mike L.
|
Other WFMU Playlists
|
All artists played by Mike L.
|
---
Listen on the Internet
|
Contact Us
|
Music & Programs
|
WFMU Home Page
|
Blog
|
Support Us
|
FAQ
Live Audio Streams:
Flash
|
128k MP3
|
32k MP3
|
20k Real
|
20k Windows
---